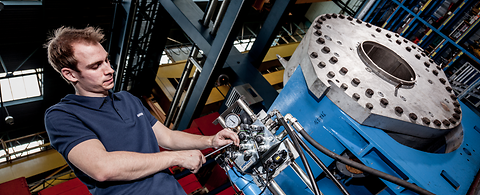 ANDRITZ hydraulic commander
Fully automatic refiner plate adjustment and refiner protection
The challenge
Keeping refiner availability high and production stable.

Many refiners have been installed with hydraulic systems that are outdated today or with entirely manual devices for adjusting refiner plate gaps. The problem with such systems is that they require frequent, time-consuming readjustments in order to provide a high and uniform fiber quality. Additionally, such systems often respond too late to prevent plate contact, plate clashes, and possibly catastrophic downtime.

The result is lower plant availability than expected.
The ANDRITZ solution
ANDRITZ's hydraulic commander monitors and adjusts the refiner plate gap in real-time. It is the fastest plate adjustment system available and uses high-speed PLC components for speed, accuracy, and reliability.
The hydraulic commander is a fully automatic monitoring and control system for your refiners.

It is equipped with the most selective plate protection system on the market to ensure stable, high-quality fiber development and quick response to disturbances in the process.

The primary components in this innovative system are an RPS (Refiner Protection System) and a fully automatic hydraulic unit for optimum refiner plate adjustment. This saves energy while ensuring uniform fiber quality. The control strategy can be based on the refining gap, the hydraulic pressure, or the specific output – depending upon mill preferences.  

A touch panel is used for equipment operation and visualization. As an option, ANDRITZ can supply lubrication and hydraulic panels. The fully automatic hydraulic commander can be installed easily as a replacement for existing systems.
Your benefits
Quick, responsive refiner plate adjustment to deal with changing process conditions
High equipment availability
Significant reduction in unscheduled downtime
Maximum safety with Refiner Protection System (RPS)
Energy savings
Uniform fiber quality
Maximum plate life
Less human intervention required – operated from central control room