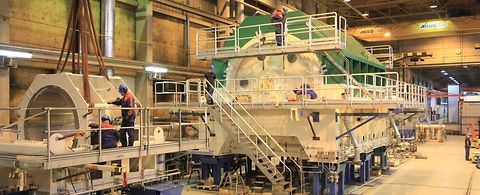 Facilities and HSEQ of ANDRITZ Savonlinna Works Oy
Facilities
Our workshop is located  in Savonlinna, Finland, with the production area of 16.000 m2. The workshop machinery and tools are well suited for demanding manufacturing with handling capacities for smaller and larger work pieces. The machinery is kept up-to-date by constant maintenance and investment program.
Quality, Health, Safety, and Environment
The basis for our operations are the certified quality systems ISO 9001:2015 and ISO 3834-2. Savonlinna Works delivers machinery and pressure equipment which meet the following directives and standards:
Machine directive 2006/42/EC
Pressure equipment directive 2014/68/EU
EN ISO 13445
ASME S, U and NB
AD2000-Merkblatt HP0
MLoSE D1 + D2
GOST-R
AS
With our process flow operation model and strict internal quality inspections, our products are delivered exactly to our customer's requirements. Our manufacturing processes for pressure equipment adhere to the strictest codes and standards for pressure parts. Our operations have been audited to ensure compliance with these requirements and approved through the granting of manufacturing permits that are renewed regularly.
We also operate with certified occupational health and safety management system OHSAS 18001, and concentrate in work safety issues both at our workshop and at installation sites with the target of zero accidents.
Our manufacturing processes comply with general environmental legislation, and we strive to minimize the environmental impact of our own operations by e.g. using environmentally friendly energy sources and by classifying, reusing and recycling our waste to the fullest extent.