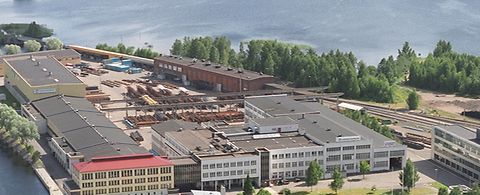 ANDRITZ Warkaus Works Oy, Varkaus, Finland
ANDRITZ Warkaus Works is a boiler manufacturer located in Varkaus, Finland. The company supplies the most demanding pressure-bearing components for chemical recovery boilers and power boilers for industrial applications.
ANDRITZ Warkaus Works offers products and services for new boilers as well as rebuilds or modernizations of existing boilers in compliance with the quality and safety criteria in the destination country.
Our staff is highly skilled. Our technicians and specialists have the qualifications to weld, fabricate, coordinate, and ensure the quality of the components required for demanding boiler manufacturing work. Our people have extensive experience in boiler manufacturing. ANDRITZ Warkaus Works maintains this level of experience by selecting the most promising younger workers and mentoring them through an in-house training program to ensure they remain the Best-in-Class boiler manufacturing company in the world.
The expertise of our staff at ANDRITZ Warkaus Works is coupled with modern and highly efficient production tools to ensure that we meet customer expectations as well as the required national and international codes and standards. We deliver our products and services to global markets primarily through ANDRITZ worldwide organization. Over 90% of our products are exported: to Europe, North and South America, Asia, and Oceania.
Facilities
Our manufacturing and office facilities cover an area of approximately 14,000 m². Our state-of-the-art production lines are highly automated and feature the most advanced equipment to ensure fast and high-quality deliveries.
Quality and environment
We operate with certified ISO 9001 and ISO 3834-2 quality systems and hold a Certificate for Authorization for ASME Boiler manufacturing and assembly . Our manufacturing processes for pressure-bearing components adhere to the strictest codes and standards for pressure parts. Our operations have been audited to ensure compliance with these requirements and approved through the granting of manufacturing permits that are renewed regularly.
We manufacture products for the most modern and environmentally friendly industrial boilers. Our manufacturing processes comply with general environmental legislation, and we strive to minimize the environmental impact of our own operations. Our operations comply with all relevant occupational health and safety standards.
ANDRITZ Warkaus Works Oy | Varkaus