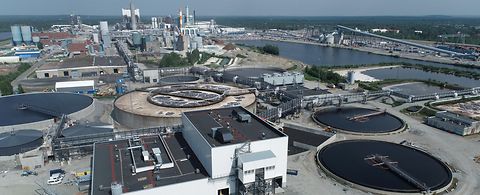 Zero waste goal for Metsä Fibre´s Kemi bioproduct mill
Metsä Fibre's new Kemi bioproduct mill is set to become a showcase in sustainability for the global industry. ANDRITZ was chosen to supply environmentally efficient technology to achieve the mill's Zero Waste goal.
Metsä Fibre's Kemi bioproduct mill will produce 1.5 million tons of softwood and hardwood pulp a year as well as many other valuable bioproducts generated from side streams. Environmental efficiency is at the forefront of its operation, with no fossil fuels being used at all at the mill, at the same time as generating an electricity self-sufficiency rate of 250%.
Another crucial goal at the mill is to have Zero Waste which is where Metsä Fibre has trusted in ANDRITZ to supply its proven waste stream solution for transforming sludge into fuel pellets, a valuable side stream. The company has also supplied and installed two of the world's first autonomous logyard cranes featuring AI (artificial intelligence) to optimize wood handling at the mill.
ZERO WASTE STREAM SOLUTION
The turnkey waste stream solution from ANDRITZ enables the sludge from the mills wastewater treatment plant to be dewatered, dried and then transformed into dry pellets that can be used for fuel. Thanks to the high calorific value of the dried final product, the pellets can also be sold outside of the mill creating a valuable side stream.
The sludge is dewatered in D6LX decanters, minimizing the consumption of wash water. The small footprint paddle dryers dry the sludge, ensuring minimal off-gas emissions. Specialist pelleting equipment, also supplied by ANDRITZ, provides a low dust end product suitable for the commercial market.

WORLD'S FIRST AUTONOMOUS LOGYARD CRANES
ANDRITZ has also supplied two 2 × 25 ton autonomous cranes to the Kemi bioproduct mill project. The cranes operate on a 540 m long logyard with a storage capacity of around 120,000 m3. Featuring the latest in AI technology, the cranes will handle approximately 7.6 million m3 wood/year shipped in on trucks and electric trains as well as handling wood storage and wood feeding to the pulping process.
The cranes will be the first autonomously operated cranes worldwide with the AI feature enabling the optimization of log handling, the minimizing of wood losses, and securing an environmentally friendly and cost-effective operation.