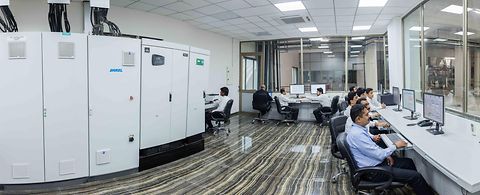 ANDRITZ Feed and Biofuel
The ANDRITZ Feed and Biofuel office in India is the local contact for sales, engineering and service and support to the feed and biofuel industries all over India, Sri Lanka and Nepal.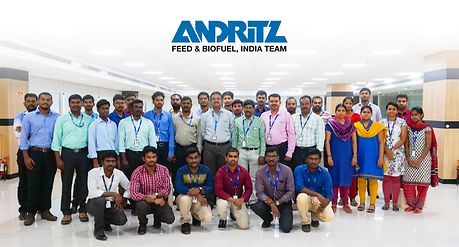 Products and solutions
At ANDRITZ Feed and Biofuel we strive to be a complete partner for our customers. Therefore, we offer a simple and efficient "one-stop-shop" concept that means we supply all key processing machinery, cover the entire processing line and provide aftermarket service and support in animal feed, aqua feed, pet food and biomass.
We offer:
Complete processing plants
Key processing machinery
Technical consultancy
Commissioning and start-up
Engineering service
Aftermarket: service, support, spare and wear parts
Key machinery for all type of feed and biofuel production processes:
Experience and know-how through many successful projects
India is in a phase of rapid development in all major industrial sectors, especially in the feed and biomass industries. ANDRITZ Feed and Biofuel in India is dedicated to matching this rapid development with the concept of cost-effective and compact plant design through its highly efficient process machines, capable engineering team and able suppliers. In addition, we are offering a selection of output capacity in accordance to the customer's needs through optimized plant in terms of sizing and layout.
ANDRITZ Feed and Biofuel in India has a solid portfolio of successful projects:
| | | |
| --- | --- | --- |
| Name of customer | Capacity | Type of feed |
| AMUL, Gujarat | 2 X 40TPH | Cattle feed |
| Sumul, Surat, Gujarat | 20TPH | Cattle  feed |
| Vangili Feeds, Krishnagiri, TN | 20 & 6 TPH | Poultry feed & FFS Plant |
| Cargill India P ltd, Bathinda, Punjab | 20 TPH | Cattle feed |
| Skylark Feeds P ltd,  Purnia, Bihar | 20TPH | Poultry feed |
| Skylark Feeds P ltd,  Bharatpur, Nepal | 10 exp upto 20 TPH  | Poultry feed |
| Krishi Nutirision, Perundurai,Tamil Nadu | 2 X 10 TPH | Poultry / Cattle feed |
| Rohini Minerals P Ltd ( SR Hatcheries ), Hyderabad, Andhra Pradesh  | 20 TPH | Poultry feed |
| MBS Hatcheries, Pollachi, TN | 10TPH | Poultry feed |
| MBS Hatcheries – 2, Pollachi | 10TPH | Poultry feed |
| Pussalla feeds, Colombo, Srilanka | 20TPH | Poultry feed |
| Venkateshwara Hatcheries P ltd, Bangalore | 10 exp upto 20 TPH | Poultry feed |
| Rajsri Foods, Bengaluru | 20 TPH | Poultry / Cattle  feed |
| Milma ( Kerala Cooperative ), Patthanakkadu, Kerala | 20TPH | Cattle feed |
| VKM Feeds, Pollachi, Tamilnadu | 2X10TPH | Poultry feed |
| Valsad Dairy, Valsad, Gujarath | 15TPH | Cattle feed |
| Kohinoor Hatcheries, Hyderabad | 10 TPH | Poultry feed |
| Navitas  Green Power ( SAR Group ), Gurgoan, Delhi | 5 TPH – 3 lines | Biomass pelleting |
| Coastal Farms, Mangalore | 10TPH | Poultry feed |
| RMP Farms (Rayban Feeds), UP | 10TPH | Poultry feed |
| Salasar Natural Energy, Kagaz Nagar, Telanghana | 5 TPH | Biomass pelleting |
| Rohini Premix Plant, Hyderabad | 5 TPH | Poultry feed premix |
| Pussalla Hatcheries , Sri Lanka | FS & Silo System | Poultry feed |
ANDRITZ Technologies Pvt. Ltd. | Chennai