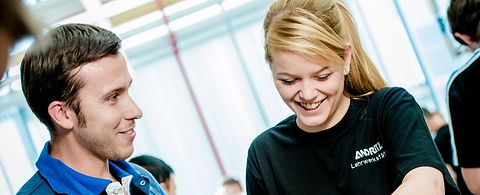 ANDRITZ – Your partner for your apprenticeship
Giving you the education to be a specialist in the field
The training workshop in Graz has been teaching apprentices since 1922. We currently have around 100 apprentices training with us and every year when they finish, about 25 of these young men and women start their careers here at ANDRITZ.
Our training workshop challenges and encourages development of the next generation of the company through both theoretical and practical work, with English courses to help for international projects, as well as teambuilding exercises to encourage community among colleagues.
Every September our new apprentices begin their educations for the following careers.
Click on the links below to find more information about each of the job options: