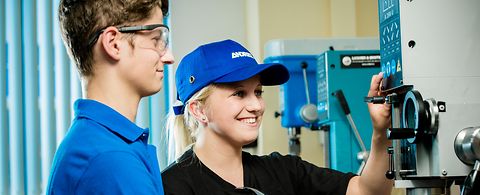 Vocational training in Kriens
Your path to becoming a professional - with an apprenticeship at ANDRITZ Hydro
Are you interested in machines? Are you enthusiastic about working on extensive projects? Are you a team player? Then you've come to the right place.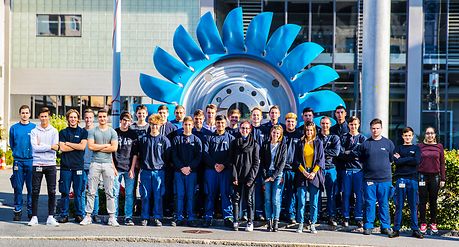 Apprentices in Kriens, Switzerland
More than 15 apprenticeships in various domains, committed vocational trainers and a training program in a hands-on working environment await you. Vocational training at ANDRITZ Hydro is the ideal springboard for a successful future as a sought-after specialist.
What are we doing?
ANDRITZ Hydro is one of the world's leading suppliers of hydropower plants. These power plants produce electricity by means of water. Water stands for sustainable energy generation from natural, renewable resources.
Turbines, our speciality, are waterwheels and work much similar to a bicycle dynamo, except that the turbine runner is powered by the force of water.
Since one wants to extract as much energy as possible from water, but water bodies greatly differ in the amount of water and the gradient (lakes, rivers, etc.), we use various runner types. Our team of specialists therefore works out the optimal solution depending on the situation, in compliance with all quality criteria and considering an environmentally friendly solution.
Which apprenticeships do we offer?