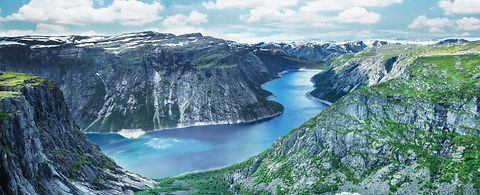 ANDRITZ Hydro Production in Kriens
With over 170 years of experience, the workshop in Kriens offers a full range of service work for the maintenance and modernisation of hydropower plants.
After optimising the workshop, we have been offering over 33,000 production hours in the following activities on 5,000 m2 with 30 permanent employees since 2021.
ANDRITZ Hydro's work in Kriens
Turbine service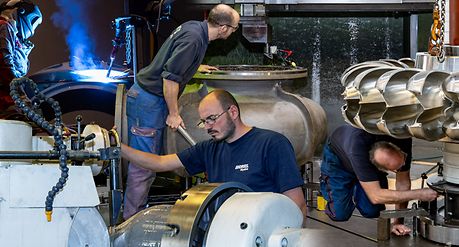 With their wide-ranging expertise and many years of experience in the Service & Rehab business, our highly trained employees guarantee professional assembly and disassembly at site and at our factory. We are also always open to special requests and will find a solution in any case.
Crane capacity up to 160 t
Assembly area / panel field 200 m2 
Hydraulic pressure test up to 300 bar, water and oil
Balancing static up to 80 t / dynamic up to 5 t
Assembly pit for long shaft combinations / rotors
Surface treatment, corrosion protection
Mechanical production of small and large parts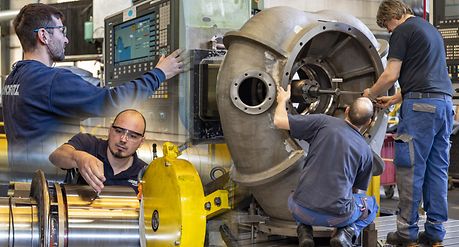 Trained specialists with many years of experience in milling, turning, and grinding ensure short times through multi-machine operation with flexible working hours.
Crane capacity 160 t
Plating, drilling and milling machines up to 12 m and 80 t
Vertical lathes up to 8.8 m and 80 t
5-axis milling machine for small parts and high-precision model part production
Production of special screws, bolts, and nuts
Direct programming on the machine and via NX-CAM
Runner service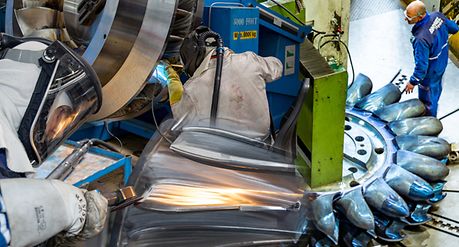 One of our core businesses is runner service. The complex and very elaborate processes require absolute precision. Our employees, all of whom have decades of experience, do this with passion and are true "artists" at it. This guarantees proven quality at the highest level. 
Sandblasting work
Non-destructive testing (VT, PT, MT, UT)
Grinding and welding of runners and revision of all turbine type parts
Testing, grinding, and welding also in power plants 
Heat treatment up to 620°C for dimensions up to 7.8m x 7.8m x 3.9m
Coating technology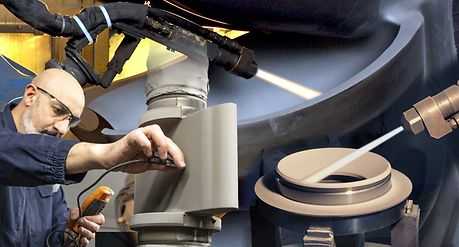 Our proven SXH coating optimally protects your parts against abrasion and thus extends their service life. We have been successfully using HVOF tungsten carbide technology for over 30 years and are continuously developing our SXH coating. Our specialists guarantee a flawless finish in accordance with specifications and guidelines.
Sandblasting work
HVOF robot coating cabin with up to 4m diameter and 30 t unit weight
Competence centre for coating within the ANDRITZ Group
Wear test stand in Vevey