Alto Anchicaya
New generator for a hydropower plant in Colombia
ANDRITZ HYDRO has been awarded a contract from Empresa de Energía del Pacífico (EPSA S.A. E.S.P.), part of CELSIA Group, for the design, supply, installation, and commissioning of a new 126 MVA generator for the Alto Anchicaya hydropower plant.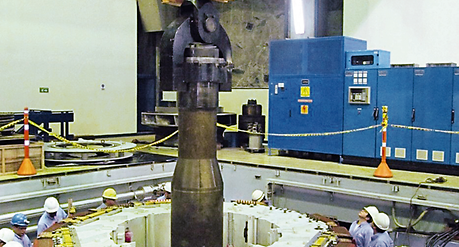 Colombia is a country with a huge hydropower potential to be developed in the upcoming years. HPP Alto Anchicaya is located in western Colombia, in the state of Valle del Cauca, about 85 km from Cali.
The generators were originally installed by General Electric in 1974 and the hydropower plant, with a total installed capacity of 355 MW, consists of two 120 MW as well as one 115 MW Francis turbines and provides around 2,291 GWh of electrical energy annually. Its reservoir covers an area of 385 km2.
The new generator for the Alto Anchicaya hydropower plant will be delivered from ANDRITZ HYDRO Inepar Brazil in June 2015. It will be the first generator from ANDRITZ HYDRO Inepar Brazil ever installed in Colombia. All local services and site works for the dismantling of the existing generator and for assembling  of the new generator in the erection bay will be under the responsibility of ANDRITZ HYDRO Colombia. Commissioning is scheduled for November 2015.
In 2010 ANDRITZ HYDRO has received a contract for the supply of three Francis turbines for the 810 MW HPP Sogamoso. During the last few years ANDRITZ HYDRO won several new COMPACT installations and got a number of orders for the Service & Rehab business unit in Columbia. Earlier this year ANDRITZ HYDRO obtained an order for the refurbishment of a turbine at HPP Prado Tolima.
The Alto Anchicaya hydropower project will help ANDRITZ HYDRO to develop new opportunities in Colombia by showing our capabilities and know-how in the field of hydropower generators and confirms again the fruitful cooperation between ANDRITZ HYDRO and its clients in Colombia.
TECHNICAL DATA
| | |
| --- | --- |
| Output: | 1 x 126 MVA |
| Voltage: | 13.8 kV |
| Frequency: | 60 Hz |
| Speed: | 450 rpm |