Dak Mi 2
Electromechanical equipment for a hydropower plant in Vietnam
In the middle of 2014, ANDRITZ HYDRO India signed a contract with AGRITA QUANG NAM Energy JS Company (AGRITAM) for the complete electromechanical works for Dak Mi 2 hydropower plant.
HPP Dak Mi 2 is located on the Dak Mi River, in Phuoc Son district in the province of Quang Nam in central Vietnam. It is a multipurpose scheme used for irrigation and hydropower generation.
ANDRITZ HYDRO's scope of supply includes design, manufacturing, and supply as well as supervision during erection and commissioning of the complete electromechanical equipment. The equipment supplies consists of two vertical 49 MW Francis turbines with electronic speed governors, two spherical inlet valves, two generators with static excitation system, protection system, computerized supervisory and  control system (SCADA). Furthermore, 63 MVA power transformers (three-phase) and a 220 kV switchyard (AIS) along with the entire electrical and mechanical auxiliary systems will be delivered by ANDRITZ HYDRO. The transportation of the electromechanical equipment is scheduled for 2016.
HPP Dak Mi 2 will supply an output of 415 GWh sustainable and clean electrical energy per year into the central power grid of Vietnam.
This is the second large hydropower contract for ANDRITZ HYDRO from AGRIMECO group after HPP Chi Khe (2 x 20.5 MW; in 2014).
The award of this contract reinforces ANDRITZ HYDRO's position as a reliable partner in developing hydropower plants in Vietnam and Laos.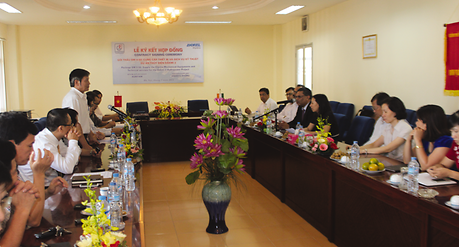 TECHNICAL DATA
| | |
| --- | --- |
| Output: | 2 x 49 MW |
| Voltage: | 13.8 kV |
| ad: | 252.4 m |
| Speed: | 428.57 rpm |
| Runner diameter: | 1,530 mm |