Pathri
Handing over of three units in India
A contract for the modernization of Pathri hydropower project was awarded to ANDRITZ HYDRO by Uttranchal Ltd in 2010. 
In August 2014 the project was successfully completed and all three generating units were handed over to the customer for commercial operation.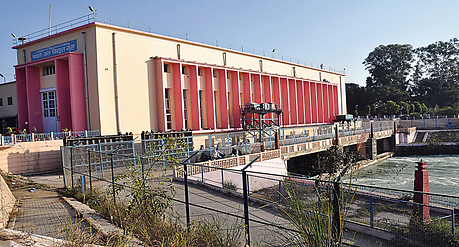 HPP Pathri is situated on the upper Ganges, 10 km west of the city of Haridwar. It is the first hydropower plant on the canal, fed by glaciers of the mighty Himalayas. The barrage was built mainly for flood control, irrigation and power generation.
Commissioned in 1955, HPP Pathri was originally equipped with three Kaplan turbines generating less than 50% of their capacity with considerable noise and vibration. By offering its successful environmentally-friendly oil-free Kaplan runner, ANDRITZ HYDRO was able to win the contract. The new units were manufactured in India.
ANDRITZ HYDRO provided the complete electromechanical solution, including three 6.8 MW Kaplan runners, guide vanes, regulating mechanism, shafts, bearings, seals, servo motors for the runner and guide vane mechanism, generator stator refurbishment, new rotor poles, refurbishment of rotor spiders, digital turbine governors, and the oil lubricating systems for the generator. Furthermore, ANDRITZ HYDRO supplied the SCADA-system, plant control, protection and excitation systems as well as mechanical and electrical balance of plant equipment. In addition, the scope included the renovation of hydromechanical equipment like the intake gate, draft tube gate, stop log gate and bypass gate system.
In August 2014, the installation and commissioning of all components were completed. A very challenging task was the integration of existing old and out-dated components into new elements at optimum performance. The installation works and the refurbishment of reused components was carried out during ongoing operation of the hydropower plant.
With HPP Pathri ANDRITZ HYDRO has gained an important Indian reference project and embraced an excellent opportunity to demonstrate its leading technology to this market. ANDRITZ HYDRO is looking forward to more challenges from India, since the majority of the existing Indian hydropower stations are beyond their planned life span.
TECHNICAL DATA
| | |
| --- | --- |
| Output: | 3 x 6.8 MW / 8 MVA |
| Voltage: | 11 kV |
| Head: | 9.88 m |
| Speed: | 125 rpm |
| Runner diameter: | 3,890 mm |