Iovskaya
Successful inauguration in Russia
In November 2014, the second unit of the Iovskaya hydropower plant was inaugurated, following the successful handing over of unit #1 in January 2014 (Hydro News 25).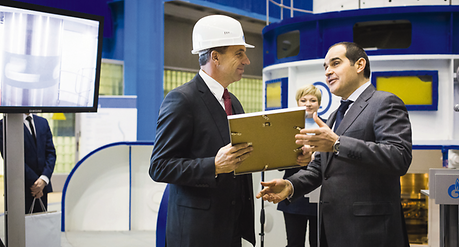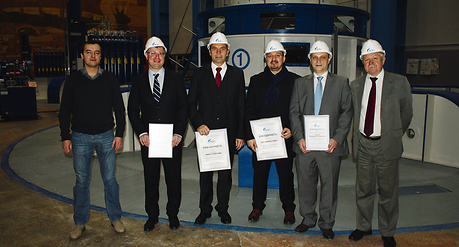 HPP Iovskaya is owned by the Kolsky Branch of JSC TGK-1 (Territorialnaya Generiruyushchaya Kompaniya No 1 – a regional utility) and was originally commissioned in 1960. It is part of the Nivskiy Cascade in the Murmansk oblast, located close to the northern polar circle.
ANDRITZ HYDRO's scope included the supply of two new double-regulated Kaplan turbines with seven runner blades, automation (control, protection, excitation, governor and vibration monitoring), a new generator winding as well as the balance of plant equipment.
The second, now modernized, unit was successfully synchronized and load tests were performed by end of 2014. After finishing the 82-hour test run, the Taking Over Certificate (TOC) was signed by representatives of TGK-1 and ANDRITZ HYDRO in an on-site ceremony. The customer was absolutely satisfied with the absence of vibration during the operation of both units, which had been a significant problem for decades. ANDRITZ HYDRO proved all guaranteed performance values to the customer during the first two months of operation of the second unit and nearly one year of operation of the first unit.
The rehabilitation project was completed one week prior to the contractual date, representing an example of good cooperation between TGK-1 and ANDRITZ HYDRO. HPP Iovskaya was the first manifold rehabilitation of ANDRITZ HYDRO in Russia. Together with HPP Tsimlyanskaya, the Iovskaya hydropower plant delivers significant experience for further hydropower projects in Russia.
TECHNICAL DATA
| | |
| --- | --- |
| Output: | 2 x 50 MW |
| Head: | 32 m |
| Speed: | 136.36 rpm |
| Runner diameter: | 4,600 mm |