Calabogie, Canada
ANDRITZ HYDRO won a contract for the supply of new equipment and the refurbishment of three sluicegate units at Calabogie hydropower plant in Canada.
HPP Calabogie, first put into service in 1917, is located 22 km south of Refrew, Ontario, on the Madawaska River.  Currently the facility is operated by the Ottawa/St. Lawrence Plant Group within Ontario Power Generation (OPG).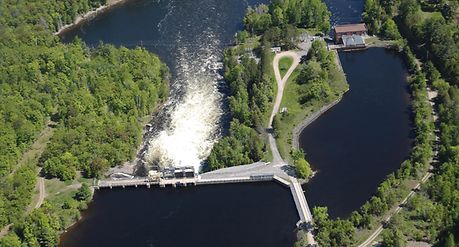 The hydropower plant consists of two generating units. The sluiceway contains two different types of water control units – three units controlled with sluicegates and five units controlled by stop-logs.
ANDRITZ HYDRO will supply one set of sectional service gates, follower and storage rack for three sluicegate units, heated sluicegates, stair tower and electrical controls, as well as wiring (including a new 600 V supply and duct bank from the powerhouse to the dam). Furthermore, the scope comprises the blasting and painting of the hoist towers and the existing embedded parts and rebuilding of the hoists.
The 600 V supply duct bank was installed 2014. The remaining units will be delivered one each year between 2015 and 2017.
TECHNICAL DATA
| | |
| --- | --- |
| Scroll Case: | Open Pit |
| Output: | 2 x 2.2 MW / 2 x 2.5 MVA |