Schaffhausen - Swift emergency repair in Switzerland
Beginning of 2015, unit #2 at Schaffhausen hydropower plant resumed commercial operations after a successful 14-day trial run.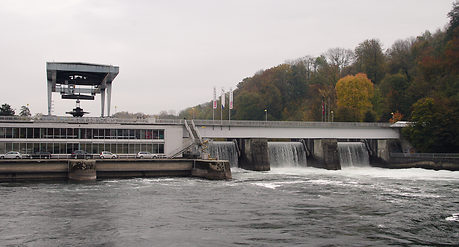 Situated on the river Rhine in northern Switzerland, HPP Schaffhausen was commissioned in 1963. After maintenance work on unit #2 by the customer in July 2014 start-up, synchronization, and putting the unit under load were on schedule and went ahead without any problems. Unfortunately sudden onset of noise and heavy vibrations required an immediate shut-down of the unit. ANDRITZ HYDRO was contracted by Kraftwerk Schaffhausen AG to perform the necessary emergency repairs. Work on the unit began without delay.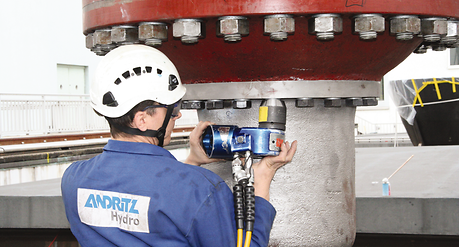 First the oil supply head was dismantled. Lifting the head revealed the full extent of the damage: the upper bearing point of the inner oil supply duct had seized and blocked the duct, causing it to rupture. The damage to the duct, which runs from the top to the bottom of the unit, was massive. All rotating parts had to be removed to allow the runner to be transported to ANDRITZ HYDRO Germany in Ravensburg for disassembly and repair. Working together with all available plant employees, work was begun within a few days, starting with the draining and dismantling of the unit. In September 2014, after only 23 days of work, the runner was restored to the point where it could be removed.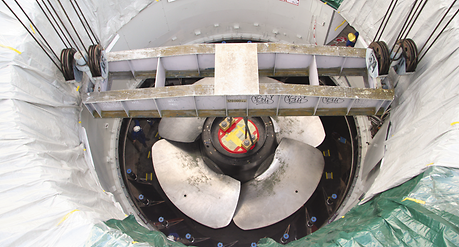 By the end of October 2014, the repaired runner had been delivered and reinstalled. In the meantime, the turbine governor was also refurbished to make optimum use of the downtime.
As planned, the turbine and regulating gear were up and running again beginning of 2015. After its successful trial run, the unit was handed over to the customer to be put back into commercial operation.
| | |
| --- | --- |
| Technical data | |
| Output: | 14.4 MW |
| Voltage: | 10.4 kV |
| Head: | 5 m - 8 m |
| Speed: | 71.42 rpm |
| Runner diameter: | 5,900 mm |