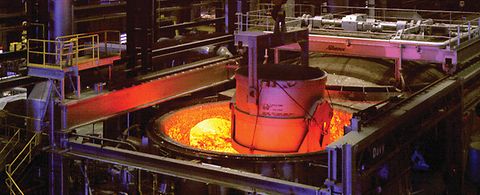 Control and automation
ANDRITZ Metals Inc. (formerly ANDRITZ Bricmont Inc.) offers a wide range of control systems for the manufacturing and processing industries.
From simple, single-loop control to sophisticated PC-based systems, we integrate hardware and software to build the most effective and efficient system possible for your needs.

Process control can be divided into several levels. Level 1 control consists of measuring operating conditions, displaying information, and controlling an output device to a desired condition.
Features and advantages
Provision for multi-zone control of all types of reheat furnaces
Furnace system evaluation for replacement or upgrade by experienced combustion/control engineers.
PLC/PC-based
PID loop control
Over-temperature monitoring
Customer-specific man-machine interface
Product tracking
Data collection and storage
Easily tuneable PID loop parameters via master MMI screen
Pre-configured system for minimum downtime during system replacement or upgrade
Network capable for data acceptance and Level II supervisory control connection
Complete multi-level alarm and annunciation system with control intervention to minimize furnace shutdowns
A Level 2 system supervises a Level 1 system. It makes decisions on how to best control a process based on mathematical modeling of the process or communication with other interrelated processes. Many Level 2 systems provide records of various data and events as well. Level 2 systems are essential to optimize a process that must change to meet varying process demands.

Features and advantages
Significant fuel-saving opportunities
Specifically engineered for metals reheat supervisory control
More systems in North America than any other supplier
Enthusiastically accepted by both operators and production supervisors
Easily expandable or tuneable for future customer needs
Minimizes damage to furnace components through consistent product temperatures and heating method
Industry-proven, continuous product enhancements over the past 20 years
Easy-to-understand system operation with custom displays for each individual system
Remote support for ease of diagnosis and maintenance
Online finite element modeling
Custom software – state-of-the art hardware
Computerized process monitoring and supervisory control
Maximizes product yield
Use of touch screen, light pen, or mouse operator input
Multi-level communications to Level 1 and Level 3
Sophisticated database management
Customer-specific training