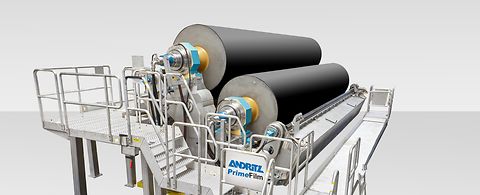 PrimeFilm and PrimeSizer
ANDRITZ film and size presses are used to apply sizing suspensions and coatings simultaneously to both surfaces of paper/board web.

Film and size press
The ANDRITZ PrimeFilm is a film press for simultaneous double-sided paper sheet coating and and/or sizing of paper and board. Different suspensions and weights can be applied on each side. It can also be used for single-sided applications. Due to the compact design, the film press requires very little space and allows a fast change of the applied weight. The PrimeSizer is a device for simultaneous application of sizing to both sides of paper and board only.
Web floating system
The PrimeAir Glide is a non-contact web floating system installed in paper board machines in combination with film presses. It supports the web on a cushion of air through its angular path.
Advantages at a glance
Single- or double-sided coating
Minimal operational cost
Wide speed range
Quick change of coating weight
Good MD and CD profiles
Similar effect to contour coating