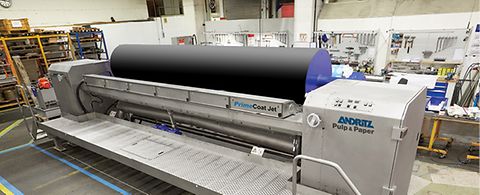 PrimeCoat coating technology
ANDRITZ PrimeCoat systems are used for coating paper and board. Different techniques can be chosen depending on coatings required, coat weights applied, and operating speeds desired.
PrimeCoat versions (Jet, Blade and BarFlex) have different blade or bar metering systems. The bar metering system can be used for pre-coating paper and board, top coating, and the treatment of specialty papers (thermal papers, inkjet papers, etc). The blade metering system is ideal when an extremely smooth finish is required.

Product range coating technology
Curtain Coater coating technology
The PrimeCoat Curtain coater provides perfectly homogeneous single or multi-layer coatings. The non-contacting design is easily configured for in-board or over-board coating. The curtain coater can be easily adapted to customers' requirements.
PrimeCoat Jet and PrimeCoat Roll:
High-speed coating of paper and board
Functional coatings with low solid contents
Applicable for all paper and board grades
Used together with blade or barflex coating function
Flexibility through modular design
Good accessability
Hydraulic application system
Cost performance trade off
Blade coating function
 Stiff blade for low coat weights and highest speeds
Bent blade for higher coat weights and best smoothness
Coating of specialty paper, pre- and top coating of paper and board
BarFlex coating function
Pre-coating of paper and board
Pre-coating and functional coatings for specialty paper
PrimeCoat Combi:
Combination of blade and barflex
At a glance
Flexibility through modular design, compact units
Top quality coated products
For a wide range of coat weights and paper grades (paper, board, specialty papers)