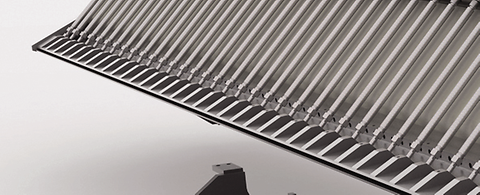 PrimeFlow headbox for tissue machines
The ANDRITZ PrimeFlow headbox for tissue machines features a unique eccentric shaft for slice adjustment that ensures minimized slice deflection. It is designed for jet speeds up to 2,400m/min and enables best cross profiles.
Design features
With the high headbox pressures in today's high speed tissue machines, tremendous slice rigidity is required to fulfill the cross profile demands. The compact mechanical design of the PrimeFlow headbox family, with its unique eccentric shaft for slice adjustment, ensures minimal slice deflection. In addition, the step diffusor turbulence generator, in combination with the optimized nozzle geometry, gives superior paper quality.
Efficient turbulence generation
The special headbox design achieves a low recirculation flow due to a tapered header mounted directly to the headbox body. This requires no hoses. The optimized step diffusor turbulence generator is constructed of tube bundles with inserts for optimal formation over a wide range of headbox flow rates and consistencies.

A highlight of the PrimeFlow headbox is the pentagonal/hexagonal outflow pattern of the turbulence generator. It creates streak-free paper. The slim nozzle design leads to a stable free jet. All major components of the system are made of stainless steel.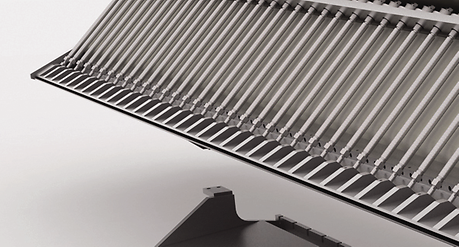 Layered sheet forming
Multilayer headboxes offer the opportunity to efficiently use raw materials to fulfill consumer demands for handfeel, strength, etc. A lamella inside the PrimeFlow two-layer headbox separates the individual layer flows in the nozzle to generate high layer purity. The lamella is made of a high-performance polymer for durability and long life. For special applications, a stainless steel lamella is available.
At a glance
Designed for jet speeds up to 2,400 m/min
Best cross profile quality through structural rigidity, mechanical micro adjustment, and consistency profiling system
Energy-saving design (low headbox circulation flow and higher consistencies) with no loss of product quality