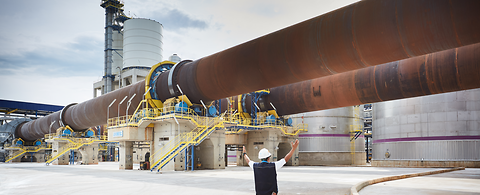 ANDRITZ LimeFlash
ANDRITZ PULP & PAPER offers innovative technologies for upgrading existing lime kilns to improve capacity and energy efficiency.  The ANDRITZ LimeFlash technology is also available on new kilns.  ANDRITZ LimeFlash is a kiln feed system that increases capacity of existing kilns by mixing hot flue gasses with the incoming lime mud before the gas enters the feed end housing.  This increases the end temperature without plugging and lime splitting.
Kiln capacity upgrade at minimal investment cost
If the lime kiln is a bottleneck, ANDRITZ LimeFlash may be the perfect solution for increasing kiln capacity at an attractive investment cost.  LimeFlash can be integrated into most existing kilns, even those with external lime mud dryers.  
With LimeFlash, kilns can be operated with higher feed end temperatures without plugging problems.  It is flexible and responsive to changing process conditions and requires minimum maintenance attention.  LimeFlash has demonstrated excellent uptime and availability.
LimeFlash advantages:
Increased capacity for existing kilns, even those with external lime mud dryers
Increased feed end temperatures without plugging
Ease of installation due to an optimized feed head structure
No need to elevate lime mud filter to higher level
Compact size – smaller building required
Comprehensive solutions from highly competent engineers
ANDRITZ PULP & PAPER specialists have extensive process knowledge gathered through decades of designing, installing, starting up, and optimizing lime kilns and recausticizing plants around the world.
This experience has been gained in upgrades, modernizations, line rebuilds, and greenfield installation which require the full complement of engineering (basic and detailed), manufacturing, erection, commissioning, start-up, and on-going service skills.