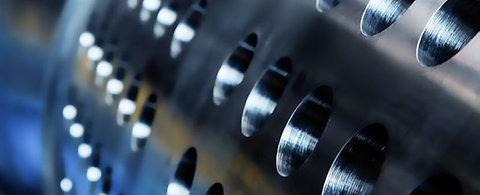 Industrial processes redefined with ANDRITZ decanter centrifuges A
Continuous, flexible, reliable, safe - the ANDRITZ decanter centrifuges A are used for chemical, mining and minerals, and industrial separation applications.
The ANDRITZ decanter centrifuges A are basic solid bowl decanter centrifuges to which features can be added for special applications. The solid bowl is ideal for clarification of liquids, thickening of sludges, and separation of solids.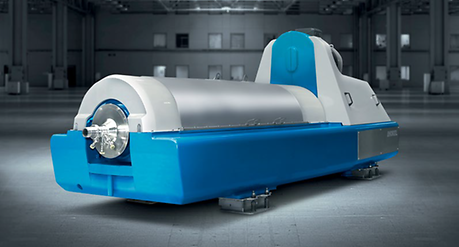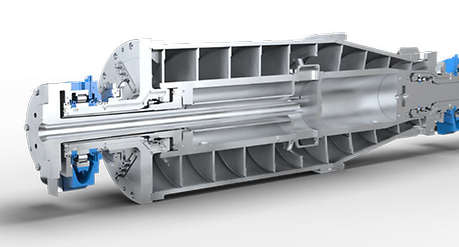 Process advantages of the ANDRITZ decanter centrifuges A
Process flexibility

Constant separation results, even at fluctuations in the volumetric flow, the process conditions, or the product characteristics
Process conditions
Gas-tight, vapor-tight, or pressurized operation
Low vibration levels
Absolute pressures from 0 to 8 bar, -90° C to +200° C
CIP cleaning
Flameproof or explosion-proof standards making the decanter ideal for applications with solvents and hazardous materials
Low space requirement
Compact design at high specific throughput
Self-contained system, therefore no extra space required for peripheral equipment
Chemical resistance
Materials such as titanium, pure nickel, or Hastelloy provide the security essential in demanding process applications.
Low space requirement
Compact design at high specific throughput
Self-contained system, therefore no extra space required for peripheral equipment
Low operating costs
Operating consumables (e.g. filter cloths) are not required. No costly downtime for changing consumables.
Clarification
Clarification is the separation of solids from a liquid of lower density over a particle size range from 1 to 10,000 microns.
By increasing the centrifugal force, it is possible to also separate very small particles in the submicron range, even with very small differential density.
Classifying
By controlled reduction of the residence time, classification according to particle size, down to the submicron range, can be achieved with sharp separation cuts.
Liquid/liquid separation
Liquid phases of differing densities can also be separated.
Thickening
Fine solids separated from the liquid can be thickened in a hindered settling mode, utilizing the volume of the cylindrical section of the decanter to maximize compression.
Compression
Compactive dewatering provides a substantially higher degree of dewatering with compressible solids.
Washing
Efficient and cost-effective counter-current washing is made possible by separate removal of the wash liquor over several sections of the screen.
Dewatering
The solids dewater by a combination of drainage and compression. The degree of drainage/compression depends on the nature of the solids, the setting of the centrifuge, and the required degree of dewatering. 
The transport and discharge of pasty, sludge-like or shear-sensitive solids are facilitated by the appropriate combination of conveyor geometry, cone geometry, and control of the differential speed.
Mixing and re-suspension
Special solids discharge geometry (gutter) allows the dewatered solids to be mixed with liquid directly at the discharge, thus eliminating the need for an additional mixing vessel.
Tailings: Efficient dewatering thanks to high-speed decanters
For dewatering of slurries with fine PSD, high G-forces are required. The ANDRITZ decanter centrifuge A10-4 are operating with high-speed design capabilities for tailings and fine solids dewatering. Due to its big diameter-length ratio it allows you to handle high volumes and increased recovery rates.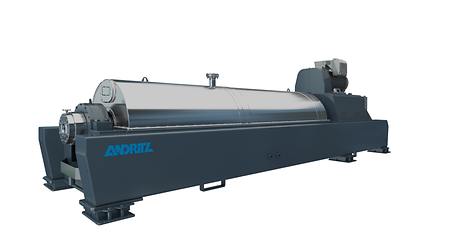 CHEMICALS
Organic chemicals

Inorganic chemicals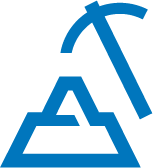 MINING & MINERALS
Ores and minerals

Tailings