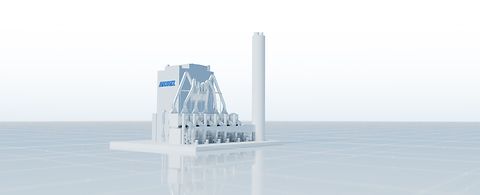 ANDRITZ autonomous recovery boiler solutions
Maximize the potential of your recovery boiler with digitalization.
ANDRITZ is a globally leading supplier of recovery boilers, with decades of process know-how in the Pulp & Paper industry. Combining our process expertise and state-of-the-art digitalization technologies, ANDRITZ has developed autonomous recovery boiler solutions, an all-in-one Industry 4.0 solution to help your recovery boiler achieve increased stability, availability, productivity, safety, and chemical recovery as well as reduced emissions and OPEX. In addition, an increasing level of autonomy can be obtained gradually through step-by-step integration of the autonomous recovery boiler solutions.
Benefits

Metris AVA, Advanced Visual Analysis, utilizes cutting-edge computer vision technology that turns images into valuable data. AVA carry-over measurement provides carry-over compositions in real time, and automatic sampling is possible by carry-over robot. AVA char bed diagnostics measure the char bed in three dimensions, while AVA spray orientation measures the black liquor spray orientation and the shape of the spray.
The HEWI weight indication system measures the ash load directly in hanging heat-transfer surfaces, providing real-time fouling information. This data is then combined with Sootblowing ACE to create smart solutions providing on-demand sootblowing. SMART sootblowing optimizes sootblowing sequences wherever and whenever necessary. This results in reduced steam consumption for sootblowing, extended water washing cycles as well as increased boiler availability and production efficiency.
The smelt spout area is one of the least desirable work environments in a recovery boiler – nonetheless, regular spout cleaning is needed for efficient and smooth operation. ANDRITZ has developed the Smelt spout robot, a fully automated robot performing smelt spout cleaning on demand with the aid of AVA smelt flow measurement. In addition, the Smelt Spout Robot can take reduction samples automatically for AVA reduction measurement. All of the AVA data is incorporated into the control system, e.g. Combustion ACE, a proven smart control system that maximizes reduction, combustion capacity, and electricity production as well as reducing operator workload. Boiler operation is then very stable and fully automated. Finally, the WLA leakage advisor monitors the boiler's operational status continuously and alerts operators to any potential leakage risks.
With autonomous recovery boiler solutions, ANDRITZ is aiming to bring added value to your recovery boilers and maximize their potential. Together, we will help you to succeed in the new era of digitalization throughout the whole lifecycle of the boiler.



Through ANDRITZ Autonomous Recovery Boiler Solutions, pulp producers can increase stability, availability, productivity, safety and chemical recovery all at a very high autonomy level. Listen to our SPECTRUM podcast episode and watch the graphical recording for more insights!