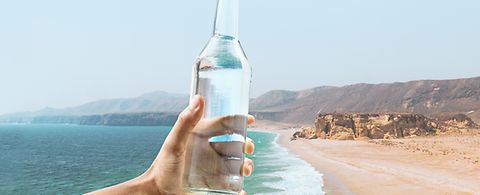 Process expertise to desalinate more water with less waste
Safe, reliable, and energy-efficient systems for potable water and desalination
From Singapore and Hong Kong to Barcelona and Dubai, cities around the world depend on ANDRITZ to safely and affordably secure a drinking water supply for a wide variety of urban needs. Many rely on the industry's most efficient technologies to guarantee a dependable potable water supply with the lowest possible energy consumption.
State-of-the-art systems and expertise
Remotely monitored and unattended plants. Energy-efficient seawater intake and desalination. And dramatically higher capture rates with reduced sludge volume. Thanks to today's state-of-the-art technologies, potable water and desalination plants are able to achieve levels of safety and efficiency that were previously unimaginable. As a supplier of sludge treatment systems to many of the world's largest plants, ANDRITZ has been a key partner in enabling this progress.
A lifetime of lower operating costs
In fact, our flexible packages covering seawater intake, pumping, screening (Aqua-Screen fine screen), and dewatering (decanter, filter press) help dozens of major cities worldwide to continuously safeguard their water supply with significantly lower operating costs.
Some, like an innovative geothermal plant in southern France that utilizes seawater for heating and cooling, use our corrosion-resistant Aqua-Guard fine screen to protect equipment for the screen's full 20-year lifespan (read more). 
Whatever your challenge, our comprehensive process knowledge and complete service and solution offerings make it possible to support your needs today and for generations to come.
KEY PROCESS STEPS COVERED
Sea water intake
Pumping
Screening
Dewatering
KEY BENEFITS
Lower energy consumption
Lower operating costs
Continuous operation
Reduced sludge volume
Unattended operations