Battery minerals processing and battery recycling solutions
Meeting the demands of a changing market and providing solutions for black mass recovery
Because of the boom in the battery industry, demand for lithium is currently exceeding supply. At the same time, evolutions in battery content indicate future increases in the demand for cobalt, aluminum, magnesium and nickel. With decades of process expertise, ANDRITZ offers turnkey production solutions such as lithium carbonate processing systems that can increase capacity and reduce production costs for a range of minerals. And with shredding, dewatering and drying solutions for hydrometallurgical recycling ANDRITZ helps to reduce your OPEX and to protect the environment.
Five decades of lithium expertise
The first ANDRITZ SEPARATION pusher centrifuge for lithium carbonate, installed more than 50 years ago, remains in operation today. This represents our commitment to supplying the world's largest lithium producers with robust separation technologies that withstand a long lifetime of continuous use.
For hard rock lithium sources, we offer systems for the thickening and dewatering for both tailings and spodumene at the mine site, as well as systems for the production of lithium hydroxide and lithium carbonate and the removal of impurities at the process plant. These technologies include vacuum drum filters, vacuum belt filters, filter presses, thickeners, as well as pusher and peeler centrifuges.
ANDRITZ has the ability to provide dewatering and drying systems. This provides for better overall efficiency. We have global references for cases where our new technology is more efficient in the final steps than previous technologies.
Battery recycling
Thanks to process expertise, extensive experience and proven systems for most process steps, we can aid you in the development or the finetuning of your recycling process for Li-Ion or other batteries. Shredders break down the batteries and separate the black mass, which is then filtered, washed and dried to recover valuable raw material, such as lithium, cobalt, or graphite. Recycling these raw materials instead of simply dumping old batteries on landfill sites benefits both your OPEX and our environment.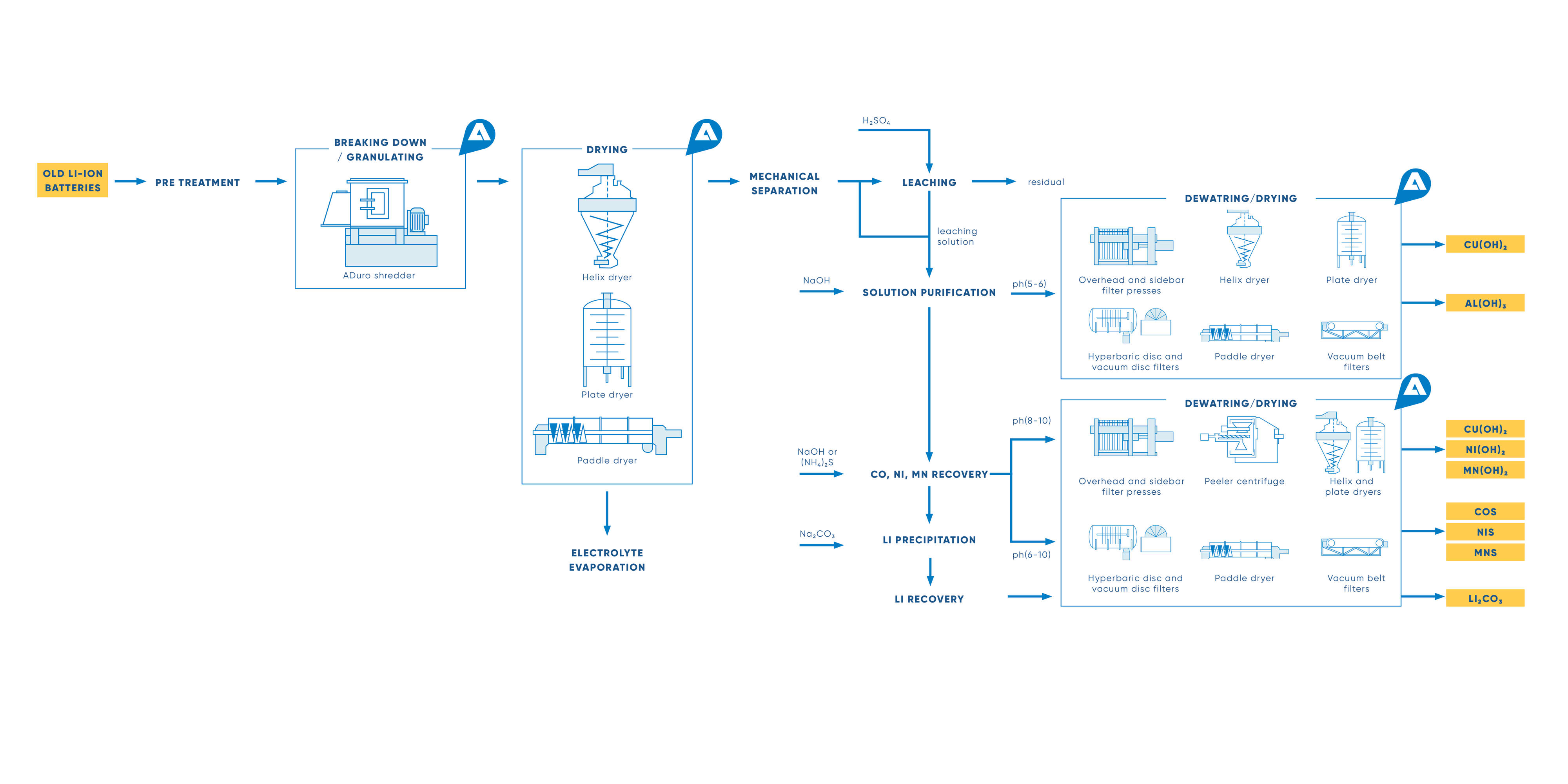 Improving efficiency and quality
Our separation technologies can help with the dewatering and drying of lithium from brines, and the extraction of other byproducts like potash and sodium. But because of the time-to-market and real estate demands of brine salar production, there is also growing interest in process equipment for spodumene mines and improvement in process design in order to lower the cost per tonne.
Using centrifuge technology as opposed to vacuum filtration for the dewatering process, we're able to achieve lower moisture levels. As a result, we can offer dryers that are smaller and more energy efficient. ANDRITZ can also supply dryers for closed gas loop operation better preserving product quality while conserving energy. In the case of lithium hydroxide, a low-temperature, low-energy drying solution is often required in order to avoid product decomposition.
Production of other battery minerals
High product throughput is, of course, critical to reliable and cost-efficient production of all types of battery mineral production. This is why many larger processors of graphite, magnesium and cobalt have long depended on us for the most efficient mechanical dewatering and purification solutions. 
Our high-capacity filter presses and thickeners ensure low operating and energy costs for some of the highest volume operations worldwide. Put together, our complete process solutions for battery minerals help leading producers to continuously expand and compete in this fast-growing global market.
Key process steps

Concentration/thickening
Purification
Mechanical & thermal dewatering of lithium and byproducts
Key benefits

Higher purity battery-grade lithium
Turnkey process solutions for dewatering, purifying and drying
Avoid decomposition and over drying
Closed gas loop for improved product quality
Low-energy drying
Contact us right now!
Just complete this form and we will get back to you right away.