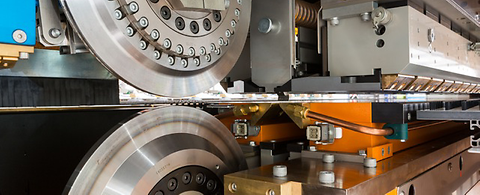 Soutrac II
High-performance Laser Welding System SOUTRAC II for complex curved seams
The advanced system for complex tasks.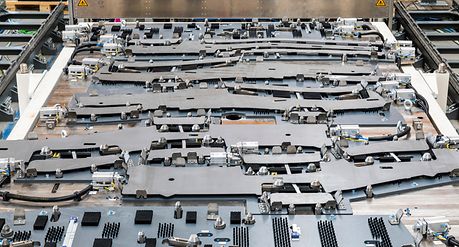 ANDRITZ Soutec developed the innovative SOUTRAC II, today's world's most advanced tailored blank laser welding system for complex, curved seams in car body parts. The core piece is the unique 15-axes processing head, which makes the system capable of welding small radii and polynomial seams.
The unique technology optimizes weld seam path engineering for ideal force transmission during the downstream forming process. This is only possible because the system is capable of highly dynamic tracking of seam paths with small radii, combined with the ability to react constantly and quick to varying gap situations. The new high-tech core piece incorporating 15 axes in combination with a welding shuttle concept is now implemented into the new generation of the SOUTRAC II welding system. The continuous measurement seam tracking and quality control system guarantees a stable welding process, meeting the highest quality requirements. Gaps of <0.5 mm between the sheet metal are closed adaptively with SOUFIL® wire and the patented SOUGAP® beam shaping technology.
SOUTRAC II makes it possible to achieve the maximum effect in terms of weight reduction and crash performance of vehicles and resulting in greater passenger safety and improved environmental protection.
Benefits at a glance
Globally unique edge tracking and quality control system
SOUFIL® adaptive wire feeding for perfect welding under difficult edge conditions
SOUGAP® adaptive beam shaping technology to overcome gaps up to 0.5mm and still meeting SEL100 or even higher quality standards.
Highest application design freedom
Expandable in modules up to the overall concept as a fully automatic welding machine
SOUBLOG® 4.0 full traceability and quality data tracking
User-friendly control with fault visualization and remote maintenance of all modules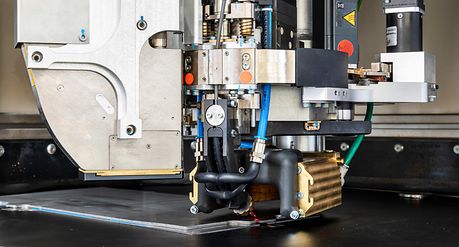 Technical data
| | |
| --- | --- |
| Parameter | Value |
| Maximum welding range | 3'800 mm x 2'100 mm (2'300 option) |
| Maximum blank pos. area | 5'100 mm x 2'500 mm |
| Minimum blank size | 300 mm (smaller size on request) |
| Smallest radius | 20 mm |
| Maximum blanks per cycle | 8 |
| Maximum welding seams per cycle | 24 |
| Laser source | fiber laser, disk laser, or diode laser |