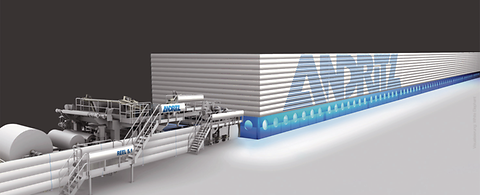 PrimeDry Hood and air system
ANDRITZ PrimeDry Hood, PrimeDry AirFlow and air systems improve the performance and economics of the drying process and increase drying capacity with the advantage of better moisture cross-profile. The use of heat recovery systems in one or more stages reduces overall energy consumption.
PrimeDry Hood   

The PrimeDry Hood encloses the dryer section with insulated sheet panel elements down to the machine floor level. The basement enclosure prevents the cold air from entering the drying section and creates a virtually closed hot room inside the paper machine hall. The PM hood keeps heat losses in the dryer section low and avoids condensation within the drying section. As a result, temperature and humidity inside the entire machine hall are improved.

The PrimeDry Hood and its air system control the ventilation for the drying section with a uniform inflow of heated air in the surrounding of the paper web to quickly take up the water vapor produced. This water vapor is discharged with the exhaust air.

Air and heat recovery system   

The air handling system PrimeDry Hood is separated from the machine hall ventilation. A heat recovery system can be employed to recover part of the heat from the machine exhaust air, which contains the entire heat energy required in the drying section. This recovered heat can be used for heating the machine supply air, circulation water for room ventilation and process water. Depending on the system size there is a total capacity of 10 MW or more.

At a glance   

Enhanced performance of the entire drying process 
Better moisture cross-profile 
Uniform inflow of heated air in the surrounding of the paper web 
Heat recovery for energy and cost savings