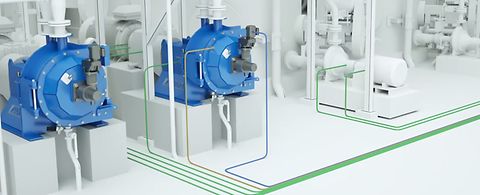 LCPS – Low Consistency Refiner Protection System
Machine condition monitoring and trending 24/7
The different vibration measurement functions replace manual equipment measurements. With the functions provided, the equipment status can be monitored 24 hours per day regardless of manpower availability. You know the status of the equipment connected at any moment and you can predict any faults at an early stage. This advantage, combined with the unique plate failure protection, will boost plant availability to the maximum.
Learn how to save money for repair costs and unforeseen shut-downs - watch the video:
Functionality
The ANDRITZ LCPS analyzes vibration signals within the refining system. The system combines plate failure protection and bearing condition monitoring. This protects the equipment automatically, 24 hours a day. The LCPS can be set up either as a stand-alone unit (serving up to 4 refiners) or can communicate with other units in a network. All your refiners or the entire stock preparation equipment can be monitored this way. The additional possibility of remote access can provide extra benefit, as ANDRITZ is then able to assist if there are any problems.
Benefits and features
Machine condition monitoring and trending 24/7

via acceleration and vibration measurement

Avoidance of plate failure
No more unforeseen shutdowns

higher machine availability

Highest level of machine safety

due to prompt alarm signals
and closed loop control (plant control systems or refiner commander)