ANDRITZ filter press
Sidebar and overhead design
The basic components of a filter press are the frame, filter plate pack, closing device, and optional additional features. The filter press frame structure is available in two versions: the sidebar and the overhead beam designs. The size of the filter press is defined by the dimensions of the filter plate. We manufacture filter presses in sizes 250 x 250 to 2,500 x 2,500 mm and filtration pressures up to 60 bar.

Sidebar design
from simple manual to fully automated equipment designs
maximum degree of automation, also with extremely sticky filter cake
comparatively low structure weight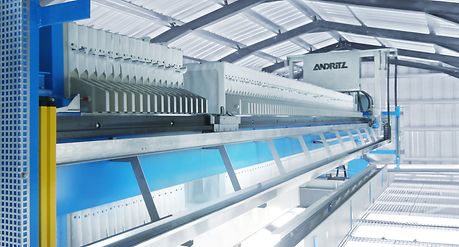 Overhead beam design
free access to the plate pack
special design for the chemical industry (maximum corrosion protection), also suitable for very aggressive media
solid structure for severe operating conditions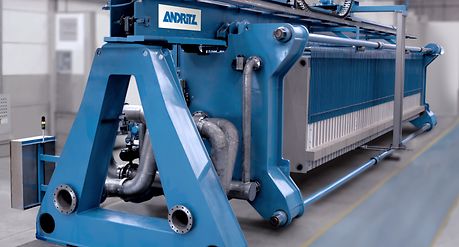 Filter press types
Chamber filter presses
Chamber filter presses are reliable and robust in many different applications. The plate pack consists of uniform chamber plates with a recess of 15-50 mm to receive the filter cake. The standard material for chamber plates is polypropylene. Possible operating pressures: 6 bar, 15 bar and 30 bar.
Membrane filter presses
Membrane filter plates are designed just like the chamber plates described above. A flexible membrane is fixed to the support body. Materials for the membranes include polypropylene, synthetic rubber (e.g. NBR, EPDM), or thermoplastic elastomer (TPE). Special materials are also available, such as PVDF. The membrane is impermeable and compresses the cake within the chamber after the filtration process is complete. Liquid or gas (compressed air) can be used as membrane inflation media. In order to guarantee maximum protection for the membrane filter press, we use special safety systems for the various membrane inflation media. Inflation pressures up to 30 bar are possible, and in special cases even higher.
Plate & frame filter presses - sheet filters
The chambers of this type of filter press are formed by combining polypropylene filter plates and frames. This creates chambers of 5-40 mm, depending on frame thickness. Plate and frame type filter presses are suitable for pre-coating filtration, which in the beverage industry is used for clear filtration. ANDRITZ supplies plate and frame type filter presses for operating pressures up to 6 bar.

Accessories - modular system
Due to the multiple requirements for both industrial and municipal applications, ANDRITZ produces modular design filter presses with a large variety of equipment components. Modular systems for semi-automatic and fully automatic filter presses:
Plant design/engineering
Filter presses provide a volume reduction of statically pre-thickened slurries of industrial or municipal origin that is both efficient and also makes sense economically. In addition to filter presses, ANDRITZ supplies a wide range of plant components or designs complete customized systems. Stationary and mobile plants:
Applications
Maintaining a clean environment, production of food and beverages, and development of essential medicines require filters that separate solids from liquids. ANDRITZ offers filter presses for a wide variety of applications and industries, ranging from treatment of wastewater sludge and drinking water, the food and beverage industry, the chemical industry, pharmacy and mining, to paper production. Applications include:
chemicals and pigments
metallurgical products and ores
minerals and inorganic products/mining
industrial and municipal wastewater treatment
food and pharmaceuticals