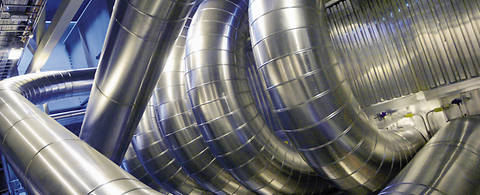 ANDRITZ power boilers
ANDRITZ offers technologies for producing steam and electricity from renewable fuels as well as for the efficient use of traditional fossil fuels. These technologies employ proven, yet modern techniques to efficiently produce power while keeping the emissions within environmentally safe limits.
Fluidized bed boilers
ANDRITZ designs and delivers boilers using a range of fluidized bed technologies.  These boilers are distinguished by capacity, fuel, and application:
PowerFluid Circulating Fluidized Bed (CFB) boilers are used for steam and power generation from conventional fuels, biomass and biogenous residues, sludge, rejects, and waste with high calorific value (such a Refuse-Derived Fuels or RDF).
EcoFluid Bubbling Fluidized Bed (BFB) boilers are used for steam and power generation from biomass and alternate fuels such as sludge, RDF, and residues.
ANDRITZ fluidized bed technologies demonstrate unmatched fuel flexibility – even with fuels that are difficult to burn when using other combustion technologies. The fluidized bed ensures almost complete combustion with the lowest emissions and the highest efficiency and availability.
Industrial steam generators
ANDRITZ designs and delivers customized boilers for different industrial applications in pulp and paper, chemicals, and iron and steel.  The result of long-term experience in combination with modern engineering, these boilers represent the highest technology and quality standards.
Steam generators available from ANDRITZ