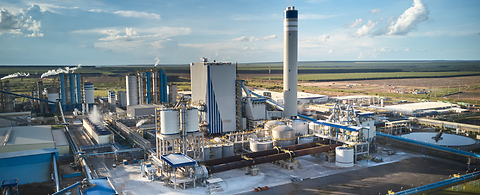 ANDRITZ LimeLine white liquor plants
Environmentally and economically efficient white liquor plants. ANDRITZ continues to lead in the development of chemical recovery technologies which not only enable efficient conversion of green liquor to high-quality white liquor, but also minimize environmental impact. ANDRITZ LimeLine white liquor plants recycle and reuse the process streams inside a mill, minimizing waste and potentially costly end-of-pipe removal.
Get familiar with LimeLine by watching the videos below.
The purest white liquor with minimal energy consumption
The major challenge in the operation of any white liquor plant is efficiently converting the green liquor from a recovery boiler into pure white liquor for the cooking process – while minimizing energy consumption and environmental impact at the same time. Critical factors such as incoming liquor quality, fuels available, solid waste (dregs) capabilities, energy costs, and white liquor purity are all considered when selecting the right combination of equipment for a LimeLine plant. 
The industry's strongest portfolio of white liquor products
ANDRITZ has been the innovator in recausticizing, lime reburning, and auxiliary processes, such as biomass gasification. As such, it offers the most comprehensive and proven portfolio of LimeLine components for each process stage. Our scope includes process solutions and equipment for chemical conversion and filtration, preparation of cooking liquors, auxiliary processes, and on-going support services.
The ANDRITZ product portfolio is designed for traditional white liquor production, white liquor oxidation, and modified delignification liquors for kraft pulping. These products and solutions can be installed in new plants or as upgrades to existing white liquor plants.  LimeLine components are designed to be operated as standalone unit processes, but offer truly superior performance when integrated into a modern, energy-efficient, and environmentally safe plant.  The results are high white liquor purity, reduced and cleaner air emissions, higher energy efficiency, and reduced waste for the landfill – even with closed-cycle process loops.
ANDRITZ draws from its experience as a global supplier of new recausticizing plants, plant modernizations, new lime reburning kilns, kiln modernizations, and several plants for white liquor oxidation or modified white liquors worldwide.
Processes and technologies available from ANDRITZ