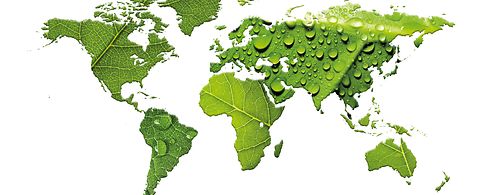 Protecting the environment and conserving natural resources
The ANDRITZ GROUP is committed to promoting environmental protection and conservation of natural resources.
Due to the standardization of core processes, all plants and systems delivered to ANDRITZ customers around the world comply with the highest environmental standards.
By offering our customers the most advanced technologies and solutions, which are innovative and efficient as well as minimizing the use of natural resources, we contribute towards environmental protection and conservation of natural resources. ANDRITZ meets the demand for environmentally beneficial and efficient products and services in its research and development work on the one hand and with a comprehensive product portfolio in the renewable energy sector on the other hand.
ANDRITZ derives about 45% of total sales from equipment and process technologies that generate energy from renewable sources. Among the most important products in this field are electromechanical equipment for hydropower stations as well as systems to generate energy from biomass (among them biomass and recovery boilers for the pulp and paper industry, as well as biomass drying and pelleting plants).
Sustained environmental protection and conservation of natural resources are leading principles in the ANDRITZ GROUP. All plants and systems supplied to customers around the world meet the most stringent environmental demands by adhering strictly to international quality standards and standardizing the core processes. In this way, ANDRITZ not only contributes towards environmental protection and conservation of natural resources with a series of products, but also meets the strictest of environmental demands within the company itself.

Green products
Here you will find an overview of our green products
Climate protection
ANDRITZ is convinced that it can strongly contribute to protecting the environment in order to ensure a healthy future for coming generations. Thus, environmental protection in our own operations, including prevention of pollution and conservation of natural resources, is one of ANDRITZ's leading principles and core goals.
We are completely aware of the negative impacts of climate change and that it is crucial to reduce greenhouse gas emissions in order not to compromise progress in sustainable development. We are determined to sharply decrease our own carbon footprint and want to get climate positive in the long-term.
Efforts are underway at the ANDRITZ production locations to enhance energy efficiency and increase the proportion of renewable energy sources. The proportion of energy costs in the overall costs is relatively small. However, climate change could increase energy consumption by the ANDRITZ GROUP in the longer term due to a need for more heating or air conditioning. Higher taxation on fossil fuels or CO2 emissions could also result in additional costs in the production sector.