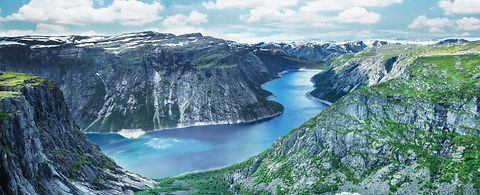 ANDRITZ Hydro in Georgia, Tbilisi
Since the 1950s, ANDRITZ Hydro and its predecessor companies have been executing hydropower projects in Georgia. In 2012 a representative office was inaugurated.
In total, we have delivered 28 units with a total capacity of 362 MW across 14 hydropower plants. With the interesting investment potential in Georgia ANDRITZ Hydro decided to open a representative office in the capital city of Tbilisi.
News
HPP Khobi II, Georgia
Complete E&M contract for 48 MW signed
References & highlights
Major projects such as Avani, Dashbashi, Oroz­mani, Kha­dori, and Zhoti have to be mentioned in the ­context of mo­dern Georgian hydropower development and ANDRITZ Hydro. The company implemented successfully small as well as large scale hydropower equipment in the country, for example:
For the Dariali hydropower plant the scope of the supply for ANDRITZ Hydro comprised the entire electro-mechanical equipment including three 37 MW Pelton turbines and generators, GIS switchgear and the generator step-up transformers. At the time the contract was signed, Dariali was the largest privately owned hydropower plant in Georgia. Since commissioning, the plant has been providing renewable and sustainable electricity to the Georgian national grid.
Akhmeta, Kakhétie
ANDRITZ  Hydro  received an order from GEOENERGY LLC  for  the delivery of electromechanical  equipment  for this installation. Back in 2012, ANDRITZ Hydro signed its first contract in the potential market of Georgia, confirming our intention to take an active part in the HPP's development.
ANDRITZ Hydro provided 2 x 4.5 MW Francis turbines, operating under a net head of 90 m and coupled to synchronous generators. The scope of supply included also the full EPS equipment including automation, protection and SCADA as well as transformers and the medium voltage equipment. The plant startet its commercial operation in July 2013
Customer Days in Georgia
In order present the latest developments and technologies in the field of hydropower, ANDRITZ Hydro was the first company to organize Customer Days in Georgia. This event took place for the first time in April 2012 and proved to be very successful with around 100 participants from the Ministry of Energy, various project developers, customers, consulting engineers and financial institutions in attendance. Due to this success and the extremely well received response, we decided to organize a similar event in June 2013 again with around 100 participants from the hydropower business community. From this time, several Customer Days were frequently organized.
We believe that ANDRITZ HYDRO has the technical competence and tailor made solutions for the development of the hydropower sector and projects of all sizes and complexity, from small to very large, and consider Georgia as one of the most vital and prospective countries in this region.
Check out our HYDRO News App
Representative Office of Andritz Hydro GmbH in Georgia | Tbilisi