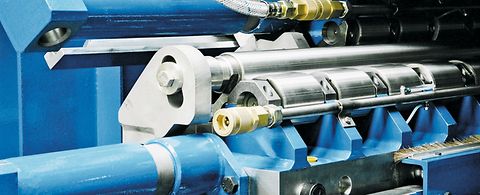 Tension leveling lines
ANDRITZ Sundwig tension leveling lines ensure high-quality production of various kinds of metal strip.
ANDRITZ Sundwig technology guarantees a constant, high quality level with improved strip geometry (flatness, camber) that is unequalled in terms of efficiency and output using other methods.

Tension leveling equipment can be used either as independent, single-purpose lines or as integrated parts of other processing lines. The most common fields of application include galvanizing, coil coating, annealing, pickling, coil build-up, inspection, and cut-to-length lines for the treatment of low-carbon steel, stainless steel, and non-ferrous metal strip.
Advantages
Production of high strip qualities by eliminating edge and center waves, as well as longitudinal and transverse buckling
Elimination of non-uniform stresses in the strip
Positive influence on material application properties
Improvement of deep-drawing and drag tension properties
Improvement of strip run in strip processing lines by decreasing or eliminating edge camber
Suitable for all kinds of strip material
Low operating costs
Economical use, also for smaller lot sizes
Easy to adjust and operate, even for less skilled personnel
Other applications
The compact design of ANDRITZ Sundwig tension leveling equipment is suitable for subsequent installation in existing strip processing lines. Thus, considerable efficiency and productivity improvements can be achieved in addition to optimum strip qualities.