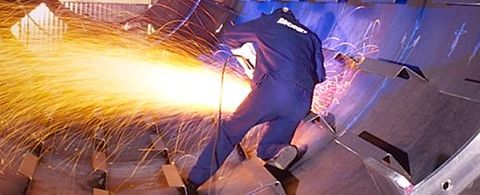 Dryer: After sales, spare & wear parts, repairs, etc.
Your full-service provider
Whether you need spare parts, rentals, local service, repairs, upgrades, or modernization of your drying system, ANDRITZ is your full-service provider.
We offer rebuilds and upgrade products to modernize your plant and making it fit for future challenges for decades to come.

Put our thermal expertise to work for you today and explore our offerings for thermal equipment here below!
Process- performance studies
On-site process-performance audits
Mechanical audits
Electrical and automation audits
Safety audits
Service agreements
Trainings
Lab and on-site tests
Upgrades for fluid bed dryers

Gas distribution plates and heat exchanger replacements
Wear and tear coupled with changing process conditions often require new plate types to guarantee a continued and stable drying process. As the world's leading supplier for thermal drying technologies in 
the municipal wastewater industry, ANDRITZ is able to provide the right gas distribution plate for your application. 
Your benefits

Increased process performance and stability
Extensive test facilities to meet your specific drying challenges
Vast experience: more than 1,300 fluid bed dryers installed worldwide across all industries
Drum upgrades
ANDRITZ offers new, optimized drums for almost all brands of drum drying systems. This is an effective option to increase earnings on your initial investment, especially for old drum dryers, as it significantly extends the lifetime of your dryer. 

Your benefits
Improved material composition for optimum resistance to wear and corrosion
Extended lifetime of the drying system
Longer lifetime assured even for highly abrasive sludge types thanks to special drums tailored to this 
SmartCLEAN, high-pressure belt cleaning
This high-pressure belt cleaning unit is an innovative washing device for belt dryers that maximizes drying efficiency. The reworked, rotating design guarantees optimum cleaning.
Your benefits
Exceptional cleaning with minimal use of high-pressure water
Stable product quality over the entire belt width
Easy maintenance with standard spare or wear parts
Belt protection system
The belt protection system offers continuous belt tension monitoring and immediate detection of irregularities (warning or stop signal on the SCADA system to protect the belt). 
Your benefits
Sensors shut down the machine when the belt moves outside the defined area (on both sides of the machine)
Less maintenance is required for the belt drying system
Scheduled shutdowns are shorter due to faster and easier belt change
Low investment to protect expensive drying belt
Pneumatic belt control system
The pneumatic belt-control system allows you to automatically control belt alignment. 
Your benefits
Reliable system for continuous belt control
Easy to retrofit
Low maintenance requirement
Dewatering belts from ANDRITZ
ANDRITZ offers a selected portfolio of woven and spiral-linked dewatering belts. The range provides excellent dewatering, high particle retention, and outstanding belt stability, enabling you to choose the right belt design for your specific needs. ANDRITZ also offers a belt-clothing service that includes:

Belt repair service
Analysis reports (performance optimization, consulting for new belts)
Replacements
In-house OEM knowledge that brings the latest insights from R&D straight to your plant
Your benefits
Cost-efficiency
Smooth performance
Easy to clean
Expert advice and service
Upgrades for contact drum and paddle dryers

Metris addIQ control system upgrades for contact drum and paddle dryers
Metris addIQ combines all our extensive operation and start-up experience in one tailored automation solution. The Metris addIQ control system is a unique automation product.
Your benefits
Easy integration into existing or new lines/plants, ensuring a short start-up time

High availability and excellent performance in operation for all functionalities

Avoids downtime by using preventive maintenance alarms and intuitive machine interface – peace of mind due to machine automation
Paddle and shaft wear protection for paddle dryers
Sludge that contains abrasive particles such as sand can often cause wear on the paddles and shafts. Depending on the wear conditions, we provide tailored services such as on-site welding repair of paddles,
wear-shield installation and replacement, replacement of individual paddles, HVOF treatment (High-Velocity Oxygen Fuel), and complete shaft overhauls.
Your benefits
Extended lifetime of the drying system

No unscheduled shutdowns

Enhanced performance