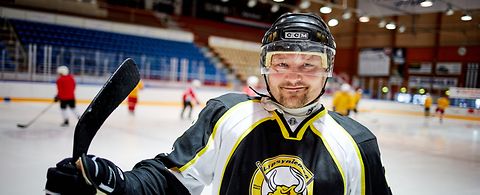 A day in the life of … Simo Pylkkänen
Workplace: ANDRITZ Savonlinna Works Oy, Finland
Position: Managing Director
Simo Pylkkänen took over as Managing Director of the ANDRITZ Savonlinna Works Oy on January 1, 2019. After starting as a Quality Engineer at the Savonlinna Works in 2006, Pylkkänen was appointed Quality Manager 18 months later. During this time he also completed his Master's thesis at the engineering works and graduated as Master of Science in Engineering in 2007.
In 2013, he took up the position of Production Manager, which preceded his position as Managing Director. Pylkkänen very much enjoys working in Savonlinna; he says, "This has been an excellent workplace – we have a good and strong collective spirit here."
Pylkkänen's family includes his wife Päivi, 10-year-old daughter Vilma and 7-year-old son Luukas. To keep fit, he practices ice hockey twice a week in a team established around five years ago.
The workshop in Savonlinna was founded in 1917 and became part of the ANDRITZ Group in 2000. The production facility operates at an area of 16,000 m2 and is the home of the DD-Washers. All DD-Washers delivered by ANDRITZ are produced here. Other main products made at Savonlinna include: drum filters, disc filters, cooking equipment, pressure vessels and screens with the delivery scope from a single spare part to a wide range of equipment and machinery for fiberline projects.