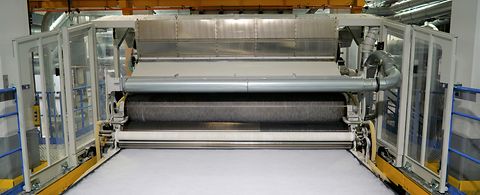 Sapro: A clinical operation with maximized efficiency
The production area of Turkish specialist nonwovens producer Sapro is more like a group of clinical laboratories than the production hub of one of the world's largest producers of wet wipes. And it's not just super clean; the company has embarked on a journey utilizing ANDRITZ Metris Digital Solutions which will see it become one of the most efficient wet wipe producers in the industry.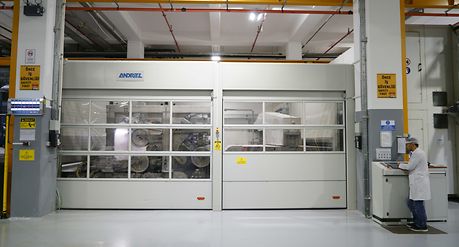 Sapro is based in Istanbul, Turkey, and is one of the top three producers of wet wipes globally. It makes, converts, and supplies some 120 million wipes a day for personal, household, and industrial use. It exports 70% of its production, which goes all across Europe, the Middle East, the US, and Australia.

"We really do believe that digitalization and data management are the future for us."
CEYHUN ZINCIRKIRAN
Managing Director, Sapro
BACKWARD INTEGRATION
 "We have always had the adage here that 'we have to grow'. We have a history of vertical integration with our other companies and we decided that what we really needed to do in this case was to backward integrate and to begin producing our own spunlace material," says Ceyhun Zincirkiran, Managing Director, Sapro.
For Sapro, there was only one company that first came to mind to supply the spunlace technology for its own production needs, ANDRITZ. Zincirkiran has a long association with the wet wipes industry and knew that ANDRITZ could supply the very best in technology.
ANDRITZ scope of supply for the spunlace line included technology and equipment for web forming, bonding, and drying. For forming, it supplied opening-blending, card Chute feeds, and two eXcelle cards. For bonding, ANDRITZ supplied its JetlaceEssentiel hydroentanglement unit with one pre-wetting injector and five high-pressure injectors and a water filtration system. Web drying included a neXocodry energy optimization system for dewatering, a neXdry dryer with two "U-drums", smart heat recovery with an air-heat exchanger.
The project, which has been realized by the sister company of Sapro, Lotus, went without too many hitches despite the fact that there was a small space into which the line had to fit. Volkan Yavuz, Sapro's project manager for the installation and now Factory Manager for the spunlace plant, says, "We had to be quite inventive with this installation and, because of space limitations, we had to design the line as a "C" shape as there was not enough length in the building for a straight spunlace line.
"However, the project went according to plan, and within six months of the start of the project we began producing top quality spunlace, and we were up to full speed not long after."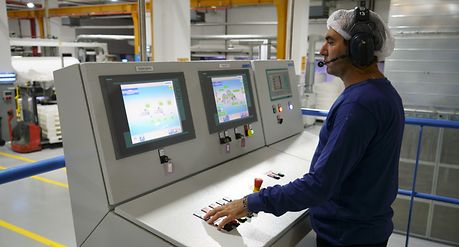 "WE WERE VERY ENTHUSIASTIC ABOUT METRIS SOLUTIONS"
Once up and running and producing top quality spunlace, Sapro began looking for ways to implement its already high standards of efficiency into the line. Zincirkiran says, "We were already using various Industry 4.0 applications in converting lines and other areas of the factory through our management information system; it was the next natural step to apply our knowledge and experience to the spunlace line.
"After the spunlace line had been running successfully for some months, ANDRITZ approached us and demonstrated its Metris portfolio of digital solutions, and asked us if we would collaborate with them and install a system on our spunlace line. We were very enthusiastic as we really do believe that digitalization and data management is the future for us."
André Michalon, Sales Director, Nonwoven Division, ANDRITZ, says, "We asked Sapro to collaborate with us on implementing Metris solutions on the spunlace line simply because they are already speaking the digital language at the production site. We could also see Metris applications making a real difference to efficiencies of operation of the line.
"The Metris UX Platform as a tool is very user friendly and the hardware can be configured within a few weeks. The most important part of implementing the solution is listening to the customer and understanding their expectations. In the case of Sapro, we know the process and technology well, how the company operates, and we could quickly focus on their needs."
REAL SAVINGS
The Metris UX Platform was installed and implemented on Sapro's spunlace line in March 2019. The package consisted of the use of existing sensors installed around the line, installation of new sensors when required, linked to software tools for managing a huge array of process operations, from pumps and motors to PID loops. The system allows operators to see exactly their real time usage of raw material, energy, water, and also maintenance issues, for instance an overheating pump, or a bearing that needs replacing.
"We have only been using the Metris UX Platform a short while, and we are really impressed with visibility of the operating processes of the spunlace line it has given us," says Yavuz. "At a glance we can clearly see where we are losing and where we are gaining, how much energy and water we are using, and how well all the sections of the line are performing."

"With Metris UX we can now see at one glance where we are losing and where we are gaining."
VOLKAN YAVUZ
Factory Manager, Lotus
METRIS – THE FORTUNE TELLER
 "This really is the future for improving efficiency at our plant. Even an expert on the line can't be a fortune teller, but Metris UX is our fortune teller. We can see exactly what we are looking at, trends on the line, figures, graphs and tables all in real time, and then act on them", says Zincirkiran.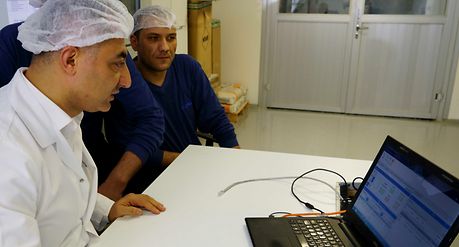 INSTALLING METRIS SOLUTIONS ON AN EXISTING SPUNLACE LINE
Most nonwoven line are not equipped with central control systems such as SCADA or DCS. However, ANDRITZ can install Metris solutions in any new or existing nonwoven lines and enhance performance thanks to data acquisition and analytics, even starting from single PLCs dedicated to individual machines only.
Whereas a dedicated server and visualization have to be foreseen, it can be virtual units incorporated into the customer's existing IT infrastructure, thus involving no change to the integrity of the customer's IT network other than opening a VPN connection with ANDRITZ. All data remain the property of the customer.
In a nutshell, the Metris UX Platform is very user friendly and the hardware can be configured within a few weeks. However, every nonwoven line is unique, therefore most of the intensive work involved is to listen and analyze the needs of our customers, in order to properly set the system and data acquisition. ANDRITZ experts are able to implement monitoring of the line within two to three months after an agreement is in place, with identifiable savings in process optimization achievable within three months.