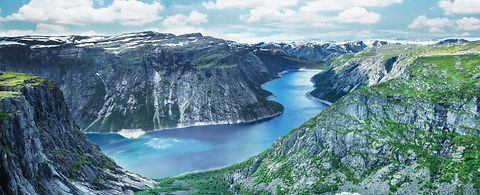 ANDRITZ Hydro in Indonesia, Jakarta
ANDRITZ has been an active contributor to Indonesia's hydropower development for more than 100 years.
The first hydropower plants built in Indonesia by ANDRITZ Hydro were Bangoen Purba back in 1910 and Toentang followed in 1912.
To date, ANDRITZ Hydro has contributed to the development of 221 units with a combined capacity of 3,220 MW. This represents a market share of more than 60%. Responding to the positive hydro-market outlook and in readiness to provide client support, ANDRITZ Hydro established a local entity, PT ANDRITZ Hydro, back in 1996.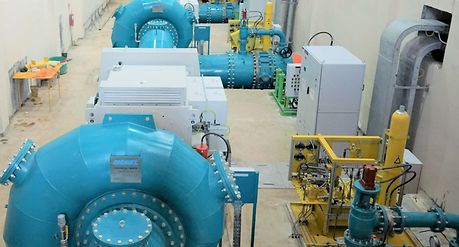 News August 2022
Cikaengan 1, Indonesia
Starting commercial operation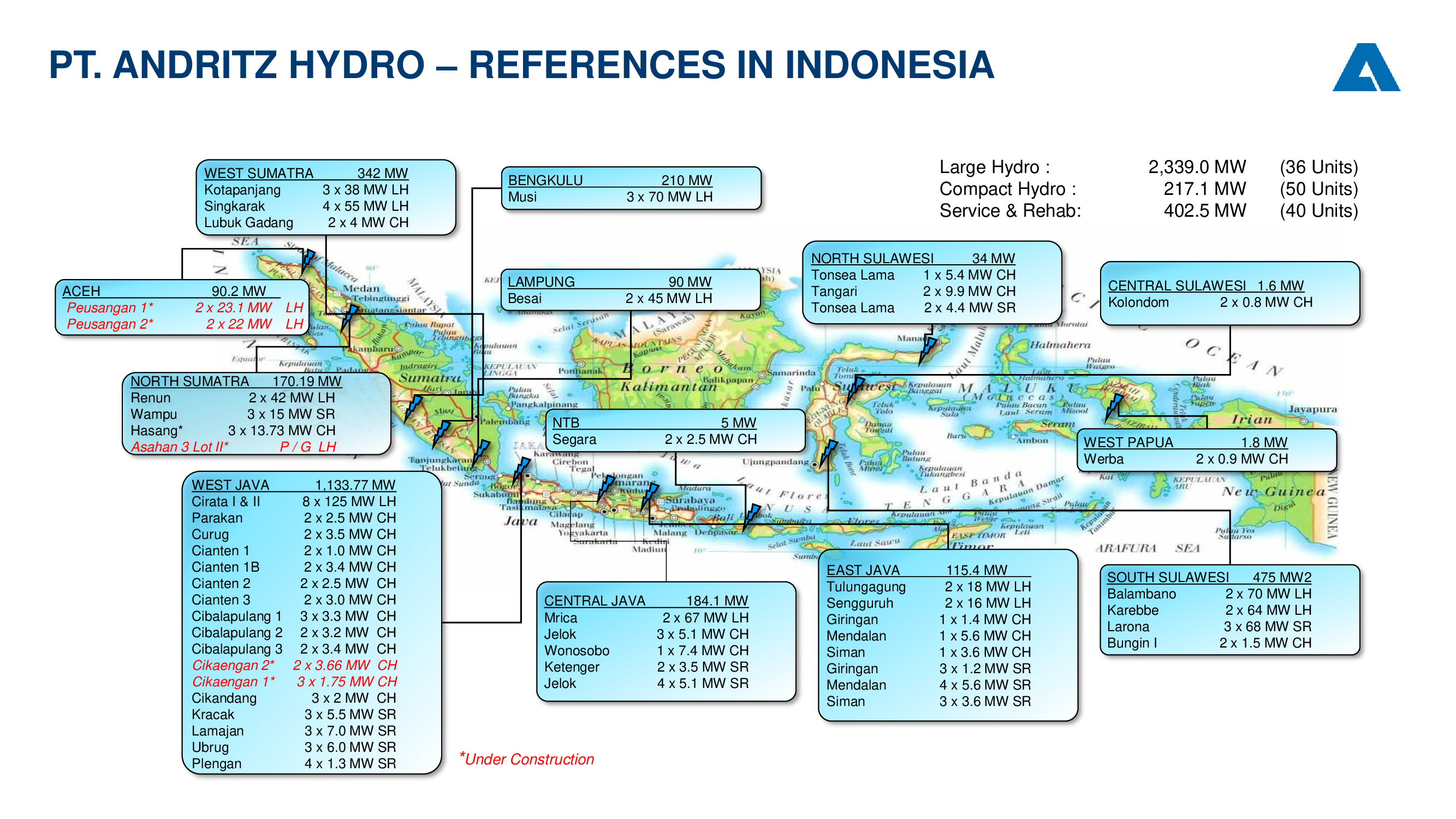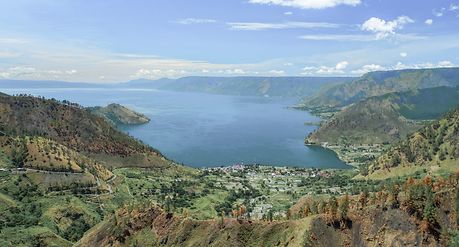 In September 2019, ANDRITZ Hydro signed a contract with PT PLN (Persero) for hydraulic steel structure comprising of 8 Gates, 3 Stoplogs, 3 Trash Racks and 1 Inspection Bridge, including automatic cleaning mechanism, Pressure Inlet valve, Penstock including bifurcation for Asahan 3 Hydroelectric Power Plant, located in Asahan Regency in North Sumatra. Asahan 3 HEPP will add a total capacity of 2 × 87 MW of renewable sustainable green energy to PLN's transmission network in Sumatra. The Japan International Corporation Agency (JICA) and the Government of Indonesia jointly financed this project.
Cirata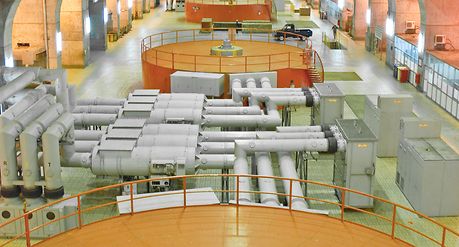 Cirata Hydroelectric Power Plant is situated on the Citarum River in West Java, 100 km southeast of Jakarta and was developed in two stages with COD Cirata I (1986) and Cirata II (1996) by PT. PLN Persero and ANDRITZ Hydro with a total installed capacity of 8 × 126 MW.
With the 1008 MW of renewable sustainable hydro capacity, Cirata Hydroelectric Power Plant plays an important role in stabilizing the grid in the Java-Bali interconnected system, operating with frequent starts-stops, regulating peak load demands and securing frequency regulation.
To keep Cirata Hydroelectric Power Plant state of the art, ANDRITZ Hydro has been entrusted with SCADA, Protection, Governor and Excitation Modernization by PT. Pembangkitan Jawa Bali since 2007. 
To assure maximum asset availability, PT. Pembangkitan Jawa Bali and ANDRITZ Hydro have successfully modernized 8 Generator Stators between 2012 to 2020. More info...
ANDRITZ Hydro at a glimpse
ANDRITZ Hydro is one of the globally leading suppliers of electromechanical equipment and services for hydropower plants. With over 180 years of experience and an installed fleet of more than 471 GW output, the business area provides complete solutions for hydropower plants of all sizes as well as services for plant diagnosis, refurbishment, modernization and upgrade of existing hydropower assets. Pumps for irrigation, water supply and flood control as well as turbo generators are also part of this business area's portfolio.
More than 180 years of turbine experience 
Over 31,900 turbines (more than 471,000 MW) installed
Complete range up to more than 800 MW
Over 125 years electrical equipment experience 
Leading in service and rehabilitation
More than 100 Compact hydro units per year 
Check out our HYDRO News App
PT. ANDRITZ HYDRO | Jakarta