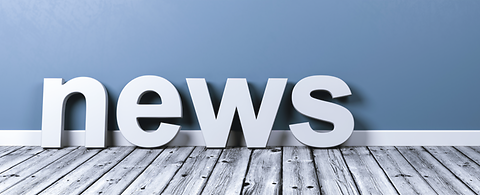 Local news South and Central America
23/03 2023: Visit to ANDRITZ facilities in Morelia, Mexico
We thank Mr. Antoine Darde from our representative of Guatemala, Mr. Nelson Pedraza and Ing. Josué Garcia representatives of the National Electrification Institute (INDE) of the Aguacapa Hydroelectric Power Plant, for his visit to the ANDRITZ Mexico facilities on February 21 – 23.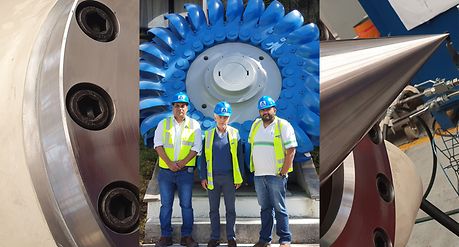 09/03 2022: Chile - Guindo Substation successfully energized
In December 2022 the energizing of the 220/66 kV substation Guindo in Chile has been successfully finalized.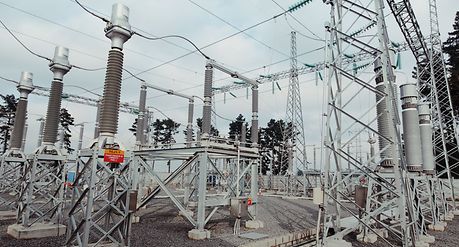 16/02/2023: Roundtable on sustainable hydroelectricity in Colombia
We thank the IHA for their invitation to participate in the round table on sustainable hydroelectricity in Colombia held on Monday, February 6 in Bogota Colombia.
02/02 2023: We celebrated the 40th anniversary of ANDRITZ Mexico 
ANDRITZ has inspired cutting-edge engineering with innovative and extraordinary projects that have made the dreams of thousands of employees around the world come true and have generated a positive impact on the environment, so we are proud that ANDRITZ Mexico is part of one of the leading countries in the market for integrated solutions, products and services for hydroelectric plants in Mexico, Central America and the Caribbean for 40 years.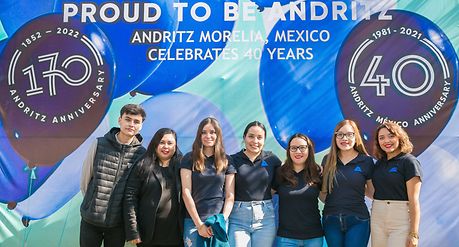 05/12 2022: São Roque Hydroelectric Power Plant
ANDRITZ Hydro Brasil has completed, with excellence, the final supervision of the assembly and commissioning of the three generating units of the São Roque Hydroelectric Power Plant, located on the Canoas River, in the Midwest Region of the state of Santa Catarina!
30/11 2022: MODERNIZATION OF HYDROELECTRIC POWER PLANTS: THREE COUNTRIES, NINE PLANTS AND AN INNOVATIVE PROJECT
ANDRITZ Hydro Brasil is working in partnership with ANDRITZ Hydro Mexico and Austria, on the modernization and supply of generators for the Penitas & Humaya hydroelectric power plants, located in the state of Chiapas and Badiraguato Sinaloa, respectively.
16/11 2022: MEGATRENDS: ARE YOU PREPARED FOR THE FUTURE OF POWER GENERATION?
Megatrends like urbanization, climate change and digital transformation are fundamentally changing every aspect of our lives. Change can be challenging, but it also offers space for positive change and even greater opportunities for those companies, organizations and societies willing to embrace new realities.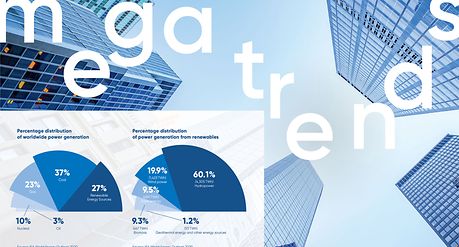 09/11 2022: AUTOMATION OF HYDROELECTRIC POWER PLANTS: MODERNIZATION OF EXCITATION AND CONTROL SYSTEMS
ANDRITZ Hydro Brasil is working with FURNAS for the modernization of the Excitation and Control Systems of the Synchronous Compensators of the Substations of Ibiúna, located in São Paulo, and Grajaú, in Rio de Janeiro.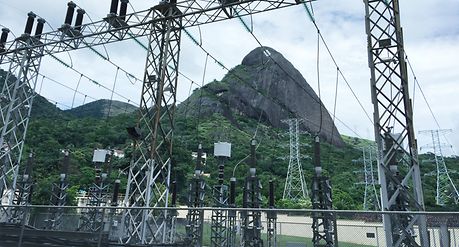 27/10 2022: Expo Energía 2022
9th November 2022 – Club Hípico Santiago – Sector Salón Mármol
Expo Energía 2022 will bring together businessmen and executives from the mining, energy and industry sectors, giving ample opportunities to learn about and interact with the latest technological innovations and attend lectures on the topics that are setting trends in the energy world.
-------
13/10 2022: Cerro del Aguila, Peru – Major milestone achieved – second unit completed
In the frame of the 10 years of "integrated Maintenance contract" of Cerro del Aguila HPP, the second milestone related with the completeness of the major rehabilitation of the second unit has been achieved.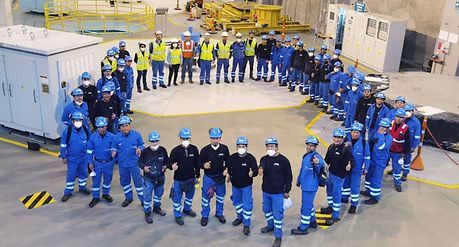 On Sept-17 2022 our team closed with full success the major maintenance of Unit 1.We may consider it a kind of record having completed the works in 16 days versus the contractually foreseen 33 days. 24/7 activities, two working shifts of 12 hours each, five of ours best supervisors from ANDRITZ Hydro locations in Italy and Mexico, more than 50 site persons involved, team spirit, commitment, common target and synergy with our client and great competences made this success real.
The third major maintenance with unit uprate is expected within the end of the year, and it will close the first round of major intervention, until the second one which will start in 2026.
Providing added value
During the whole period between one major maintenance and the following one and thanks to our innovative digital services, and specific competence about machine erosion prediction, ANDRITZ will guarantee to the client an efficiency drop of the units within defined limits.
-------
01/09 2022: Medellin, Colombia - "VI Seminar on Hydroelectric Power Plants and Energy Generation Systems"
The Antioquia Society of Engineers and Architects (SAI) in Colombia held the VI Seminar on Hydroelectric Power Plants Power Generation Systems in the city of Medellin, Colombia.
According to the organizers of this event, its objective of creating awareness and generating debate on the way in which the electricity sector in Colombia is being developed and planned was achieved.
On August 3 to 5, 2022, more than 400 attendees met at this seminar, 60% face-to-face and 40% virtual. The virtual modality allowed us to share all the information with some of our clients such as CELEC (Ecuador), CORPOELEC (Venezuela), CELSIA, EPM, Empresa de Acueducto (Colombia) among others. These companies organized special rooms to gather their staff and thus they could attend all the conferences held at the event.
ANDRITZ is proud to have participated with two presentations that were very well received during the event.
The first presentation on "Energy Storage and Reversible Plants Pump / Turbine" was given by Ing. Diego Pigozzo, General Manager of ANDRITZ Hydro Peru, giving a vision of its importance worldwide, and how pumped storage technology has already been developed in different countries.
The second presentation was about the "Aging of Hydroelectric power plants and the possibilities of modernization in Colombia. From ANDRITZ Hydro Colombia, Ing. Carlos Sgro, General Manager, and Ing. Edwin Sierra, Sales and Marketing SR Leader, held this conference highlighting the number of megawatts installed in Colombia and the main reasons to take into account to contemplate the modernization of these power plants.
During both presentations, general doubts about the pumping system and the increase in the megawatt capacity that can occur when modernizing plants were resolved. These topics were received with great acceptance by the attendees, both face-to-face and virtual, due to the broad participation through the tools provided by the SAI.
Thanks to the SAI team for the opportunity to present our two conferences that aroused the interest of the event's organizers and sponsors from the beginning, making us part of two spaces on this scene that were very well received and being an excellent occasion for the exchange of knowledge.
-------
04/07 2022: ANDRITZ at the EXPO ENERGIA in Peru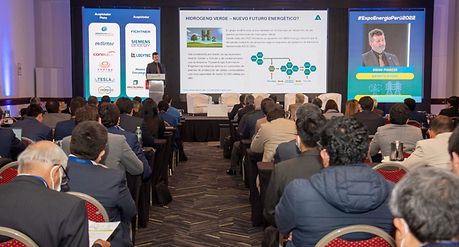 After a two-year intermission due to Covid, the Expo Energia Expo Energía Perú 2022 – Exhibition and Conferences, were again held in Lima on June 20 and 21, 2022. The conference had the motto: "The challenge of energy: The transition to a new energy model", analyzing and discussing various issues oriented to the energy transition, technological innovation and transformation of our matrix towards renewable energies.
ANDRITZ Hydro was pleased to participate as a platinum sponsor, attending with a booth and a presentation with focus on energy storage systems and market megatrends, which was held in the main conference room and received much attention and positive feedback. At a three -hour seminar for technicians and specialists we presented some specific topics of our products such as 
Synchronous Condenser & Pumps turbines
Compact Hydro Hybrid project (BESS & Floating Solar)
Rehab of existing plants with particular focus to new operating range required by the market
O&M Data prediction and actions
Substations and remote-control systems for renewable energy plants
The conference was very well attended by participants from many South American countries, not only Peru, but also Chile, Bolivia and Colombia. We were pleased that there was a lively exchange of experiences and expertise and that we were able to further cultivate our good relationships with many people from the South American energy market.
-------
12/05 2022: "Colombian-Austrian Hydroenergetic Symposium" in Bogotá, Colombia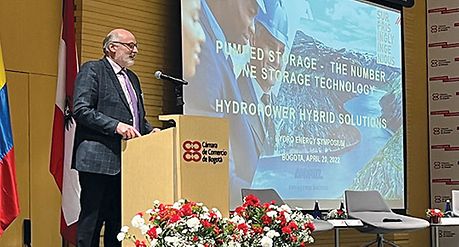 The Cámara de Comercio de Bogotá, in alliance with ADVANTAGE AUSTRIA Colombia have developed the "Colombian-Austrian Hydroenergetic Symposium" to meet the rising export and invest activities of Austrian companies in Colombia.
On April 20th, about 100 companies came together to learn about implementing sustainable economic models in energy and mobility based on science, technology, and innovation through this event. They learned how Austria had established itself as a leading country in the fight against climate change.
ANDRITZ is proud to have participated with a presentation on Pumped Storage Technology. Beat Ritschard, as Technical Advisor of ANDRITZ Hydro Colombia, made a presentation called "Pumped Storage - The number one storage technology - Hybrid Hydropower Solutions" and gave an overview of the latest pumped storage technology and its importance for the future energy transition. Likewise, this topic was added to the challenges of Colombia and its existing hydroelectric plants in the presentation made, in the final Discussion Panel, by Carlos Sgro, current Director of Andritz Hydro Colombia. Both topics received a lot of attention and acceptance from the authorities and the attending public.
-------
January 2022: ANDRITZ participated to the inauguration ceremony of the 154 kV electrical substation Pueblo Seco, Chile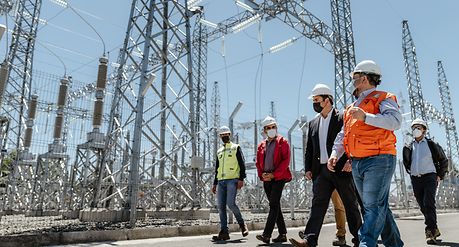 On November 25, 2021 ANDRITZ participated to the inauguration ceremony of the 154 kV electrical substation Pueblo Seco in Chile. ANDRITZ Italy together with ANDRITZ Chile carried out the engineering work and supplied the equipment, supervision and commissioning of the complete electrical power system, control & protection, automation and SCADA system. The substation includes also a 20 MVA 154/23 kV step-up transformer and it is fully operated by a remote supervision and control system. 
The Pueblo Seco substation is part of the energy transformation plan that is ongoing in the country and it is part of the projects to reinforce the Chilean transmission grid. It will also contribute to the local distribution system as well as the future interconnection of other medium voltage lines. The substation was successfully commissioned in September this year with the interconnection of the 154kV Charrua-Monterrico line. 
ANDRITZ takes immense pride in being the selected as a reliable partner for the complete electrical power system and automation works of this relevant project with our long-standing experience around the world in high-voltage substations.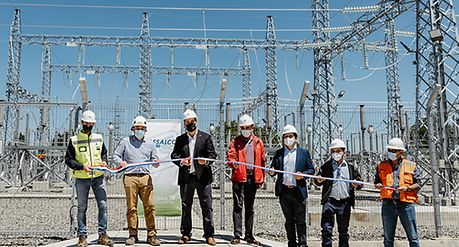 -------
June 2021: HPP Yacyretá, Brazil – Contract for 18 new excitation systems with HIPASE technology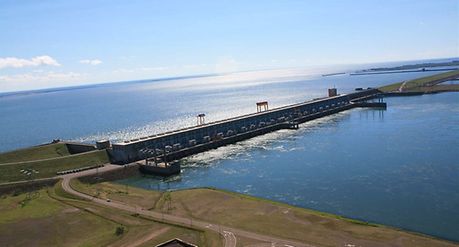 ANDRITZ Hydro Brazil entered into a partnership with Entidad Binacional Yacyreta (EBY) to supply 18 new excitation systems with HIPASE-E technology, a dedicated automation solution from ANDRITZ, for the Yacyretá Hydroelectric Plant, located on the Paraná River, between Argentina and Paraguay.
The Yacyreta hydropower plant belongs to Entidad Binacional Yacyretá and has been in commercial operation since 1994. Nowadays, it has an installed capacity of 3,200 MW MW and is responsible to supply electricity needs of 50% residences in Argentina, not to mention industries.
The qualifying process in the binational bid was challenging and required a lot of preparation from the entire team in terms of compliance, corporate, as well as technical and economic aspects. ANDRITZ used its market expertise and submitted a customized offer. We were finally chosen to supply the complete modernization of the excitation systems (cubicles, transformers, set of auxiliary part and component) consisting of basic and detailed design, manufacturing/assembly, factory acceptance tests, transport, site installation and commissioning.
This is a very important project for ANDRITZ that not only highlights ANDRITZ competence and expertise in the automation market but also marks the beginning of a long term partnership with Entidad Binacional Yacyreta.
Technical Details:
Total output: 3,200 MW
Head: 21.3 m
Voltage: 13.2 kV