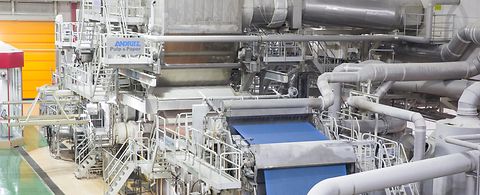 Capital Sales - ANDRITZ K.K., Tokyo, Japan
ANDRITZ K.K. is expanding its engineering sales operations to include proposals for and provision of excellent solutions for installation and renewal of all processing equipment used in the production of paper and pulp.
ANDRITZ provides a variety of equipment and automation systems used in all paper and pulp production processes, including wood pulp production that commences with preparation of the wood (barking, chipping, etc.) or the waste paper pulp production process, and the finishing process in papermaking. ANDRITZ also provides recovery boilers and causticizing equipment that can be fueled with the waste liquor (black liquor) generated from the wood pulp production process, recycle the chemicals used (caustic soda), and utilize any waste heat to meet in-house demands for heat and power, in addition to new technologies that allow customers to extract extremely pure sulfuric acid, methanol and other chemicals from by-products. All of these solutions enhance ANDRITZ' portfolio while also helping to optimize customers' plants.
Furthermore, ANDRITZ K.K. can assist customers by providing renewable energy systems, for example, biomass power generation systems and micro hydraulic power generation systems, whose value has been recognized and proven all over the world. ANDRITZ is using this technology to launch its business in fields where it can contribute towards reducing the use of fossil fuels and thus lower CO2 emissions.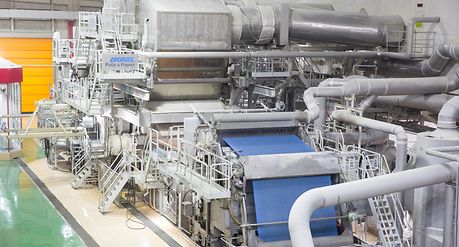 Woodyard:
Chip silo, chip yard, chipper, chip screen, etc.
Cooking equipment:
Diamondback® Bin, Help Bin (chip bin), Turbo Feed®, Lo-Solids cooking, etc.
Continuous cleaning equipment:
Pressurized/Atmospheric diffuser, DD Washer, etc.
Pulp screening facility:
Coarse screening
Medium-consistency oxygen delignification facility:
Chemical mixer, MC pump, etc.
Bleaching facility:
Medium-consistency ozone bleaching, continuous bleaching, etc.
Recovery of chemicals
Evaporator:
High-consistency evaporator (solids content: 80–85%), MVR evaporator, etc.
White liquor plant:
HERB recovery boiler (Black liquor combustion/recovery boiler),  X-filter (green liquor purification equipment), CD-filter (white liquor purification equipment),
Recycled fiber production
Cardboard/newspaper/quality waste paper treatment equipment:
OCC/FiberFlow® Drum Pulper, screen system, cleaner system, screw press, high-consistency bleaching equipment, etc.
Paper machine and related equipment:
Prime Line Tissue Machine, TissueFlex Shoe Press, Prime Dry Yankee Dryer, Crescent Former, EquiDry Hood, etc.
IDEAS computer simulation system, BrainWave® computer control system, OPP (IoT optimization system), etc.
SP pulp pump, SF medium-consistency pump,
FP fan pump, hydraulic turbine, etc.
BFB (bubbling fluidized bed) boiler
CFB (circulating fluidized bed) boiler
Electrostatic Precipitator Integrated Controller (EPIC),
Selective Catalytic Reduction(SCR)technology and wet smoke scrubbers (including condensing and polishing scrubber systems) and other products, AQCS system for the Metals industry, etc.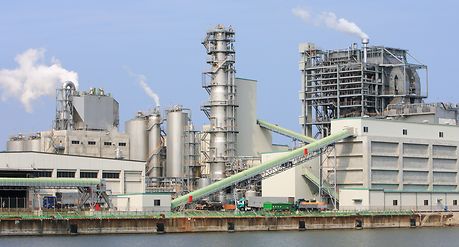 ANDRITZ K.K., Tokyo, Japan