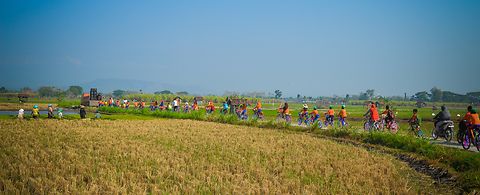 Potash
World-leading solutions for potash separation and drying
Are you looking to boost throughput? Improve product quality? Or discover innovative ways to save space, water, and energy? As the world leader in potash separation, we offer the broadest range of dewatering, brine, and tailings treatment solutions for any type of end product.

More than 90 years of expertise
Starting with our first potash centrifuge, installed in 1926, we have dedicated nearly a century to tailoring the right solutions and services for any capacity, process conditions, or end product.
We have since expanded to a total installed base of more than 600 potash solutions on five continents, in every major potash producing market. Together this amounts to more tonnage produced than all other companies combined.
Pioneering technologies worldwide
We apply this collective know-how every day to developing innovative new ways to solve all types of process challenges. Recent examples include a series of eight large-diameter disc filters installed in Belarus, Russia, and South America, as well as a growing base of innovative conical screen bowl decanters for high-quality crystalline products in operation throughout North America and Belarus. Our leading technology range includes screen bowl decanters, pusher centrifuges, filters, thickeners, and fluid bed dryers, making it possible to provide complete systems covering the full process from dewatering to drying.

The best fit for any requirement
Whatever your ambitions, we have an unmatched range of knowledge, services, technologies, and R&D capabilities to help you achieve them. As a result, you can always count on the industry's lowest life cycle costs, highest availability and capacity, most reliable end product quality, and longest equipment lifetime.

Key process steps
Flocculation
Thickening
Mechanical and thermal product debrining
Glazing
Cooling
Mechanical and thermal tailings dewatering
Screening and classification
Key benefits
Continuous operations for high capacities
Abrasion resistant (durable)
Maintenance-friendly designs
Lowest moisture content
Lower operating costs
Highest product quality
Best technological fit for any requirement
One-stop-shop for mechanical & thermal separation