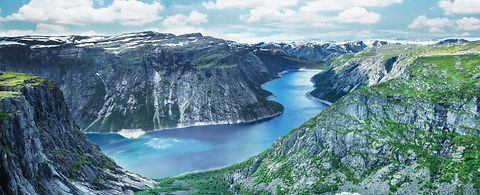 ANDRITZ Hydro in Germany, Ravensburg
ANDRITZ Hydro is a global supplier of electromechanical equipment and services for hydropower plants.
With over 180 years of experience, ANDRITZ Hydro is a leader in the world market for hydraulic power generation. Special application pumps and turbo generators are further fields of activity.
News January 2023
Sponsoring of equipment for ski school in Tajikistan

Read more...
The core competences of ANDRITZ Hydro Ravensburg are the design and construction of Kaplan, bulb, and Francis turbines, pump turbines for storage power stations, compact turbines for large and small static heads, as well as stop valves. Additional services and business activities of ANDRITZ Hydro Ravensburg comprise project management, engineering tasks for the whole facility, and automation, including installation and commissioning.

The company in Ravensburg was established in 1856 as a subsidiary of Escher Wyss & Cie., Zurich, which had a long tradition in machinery and plant construction. The mechanical engineering company has been part of ANDRITZ Hydro, a leading international supplier of electromechanical equipment and services for hydro power plants, since 2006. For more than 75 years, the Escher Wyss controllable pitch propellers have been a worldwide brand for the propulsion of high quality naval and merchant ships.
ANDRITZ Hydro Ravensburg is dedicated to making an important contribution to environmentally friendly, renewable energy. Ecological concepts for modernization in connection with extensive documentation of facilities built in over 150 years have proven to be beneficial for our customers.
The location in Ravensburg numbers around 500 experienced employees. ANDRITZ Hydro Ravensburg offers a comprehensive, qualified apprenticeship system in various technical and commercial occupations. Furthermore, practical instruction of our academic trainees is enhanced through cooperation with the Duale Hochschule Baden-Württemberg, Germany. Last but not least, the social benefits of a larger company, the possibility of individual and flexible working hours, and the location in the Lake Constance region with many recreational opportunities make ANDRITZ Hydro Ravensburg an attractive place to work.
ANDRITZ Hydro at a glimpse
ANDRITZ Hydro is one of the globally leading suppliers of electromechanical equipment and services for hydropower plants. With over 180 years of experience and an installed fleet of more than 471 GW output, the business area provides complete solutions for hydropower plants of all sizes as well as services for plant diagnosis, refurbishment, modernization and upgrade of existing hydropower assets. Pumps for irrigation, water supply and flood control as well as turbo generators are also part of this business area's portfolio.
More than 180 years of turbine experience 
Over 31,900 turbines (more than 471,000 MW) installed
Complete range up to more than 800 MW
Over 125 years electrical equipment experience 
Leading in service and rehabilitation
More than 100 Compact hydro units per year 
Check out our HYDRO News App
ANDRITZ HYDRO GmbH | Ravensburg