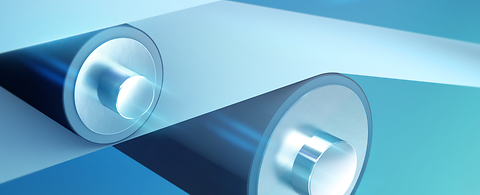 Nonwovens Industry
ANDRITZ Fabrics and Rolls offers the most comprehensive combination of belts, roll covers, and spreader rolls for nonwoven fabrics manufacturing providing an exceptional range of products for every line configuration in every global market.  Our teams of applications engineers, spread across our global manufacturing facilities, ensure optimal quality and product performance! Our integrated solutions are focused on helping our customers reduce operating costs, improve product quality, and get greater value from their assets. We provide the industry's broadest range of uniquely designed products specifically for nonwoven applications, converting and embossing applications.

Spunbond and Meltblown Belts
Huycon innovative belt structures allow for efficient web laydown, desired MD/CD strength ratios and effortless sheet release - regardless of machine design, line speed or the polymer source you are utilizing. Huycon is time-proven technology for advanced production of Medical, Hygiene and Industrial grade applications.

Airlaid Belts
Huycon Air belts are designed specifically to process Airlaid Structures more efficiently, effectively and with less waste. The Huycon Air portfolio offers specific belts for the Forming, Transfer, Bonding, and Dryer positions on your most demanding machines.

Hydroentangled Belts
Huybond belts utilize a patented weave design to offer a clean running belt with a superb entangling surface. Unmatched CD stability makes this design a must-have.

Wetlaid Belts
Our company has been producing belts for Wetlaid applications for over 200 years.  Our versatile portfolio of Huyglass, Huyplexx, and Huycoil designs are engineered to meet the demands of any wetlaid application.

Wire Cloth
ANDRITZ is now supplying wire cloth products and services. This time-trusted capability is specially engineered for a variety of nonwoven fabrics machine applications including washer belts, cleaner belts, and much more.


Roll Cover Technology
Our company pioneered the modern roll cover business back in 1886 and today provides the most high-performance roll covers available, manufactured with rubber, composite, polyurethane and ceramic materials. We have the unique capability to produce a complete range of roll hardnesses from bone hard to 265 P&J in many variations of rubber cover materials. Grooved sheet carrying rolls are also available. Applications include: pad squeeze, coating, calender, embossing and more.

SMART™ Technology
The world's first system for dynamic nip measurements. Displays MD nip width, MD pressure profile, and CD pressure profile, all in real-time. SMART™ Connect feature enables remote monitoring from any smartphone, tablet, or computer.


Spreader Roll Technology
Advanced bowed roll technology originally engineered at Stowe Woodward, Mount Hope, and Spencer Johnston provides precise control of materials produced in web or sheet form.  VARIBOW is ideal for machines where different weights, grades and types of materials are produced and allows operators to optimize the amount of bow without costly down time.