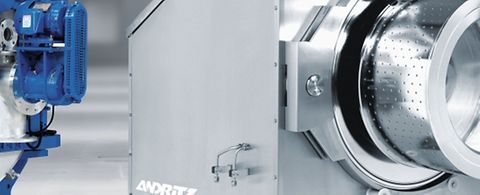 Filter centrifuge: After sales, spare & wear parts, repairs, etc.
Your full-service provider
Whether you need spare parts, rentals, local service, repairs, upgrades, or modernization of your filter centrifuge, ANDRITZ Separation is your full-service provider.
Put our separation expertise to work for you today and explore our offerings for filter centrifuges here below!

Process- performance studies
On-site process-performance audits
Mechanical audits
Electrical and automation audits
Safety audits
Service agreements
Trainings
Lab and on-site tests
Ugrades for filter centrifuges

Metris addIQ control system upgrades for filter centrifuges
Metris addIQ combines all our extensive operation and start-up experience in one tailored automation solution. The Metris addIQ control system is a unique automation product.

Your benefits
Easy integration into existing or new lines/plants, ensuring a short start-up time
High availability and excellent performance in operation for all functionalities
Avoids downtime by using preventive maintenance alarms and intuitive machine interface – peace of mind due to machine automation
SmartFIX
The ANDRITZ SmartFIX for filter centrifuges is the latest and most innovative filter cloth fastening system on the market today that reduces maintenance time and costs by around 50%.

Your benefits
Around 50% reduction in maintenance time and costs
Improved production availability and performance
Maximum safety for high-pressure applications
Optimum cleanability and batch traceability, especially for the pharmaceutical industry
SmartCLEAN – CIP for horizontal peeler centrifuges
The SmartCLEAN cleaning-in-place solution for horizontal peeler centrifuges from ANDRITZ includes an easy-to-install upgrade kit with a software update for your control system.
Your benefits
Less downtime increases machine availability by up to 10%
Significant cost savings of up to 50% compared to manual cleaning
Improved product quality
Avoids plugging with solids
SmartSIM
SmartSIM is a simulation-based operator training to get more out of your machine with a minimum of training time
Your benefits
Reduced downtime because there are fewer operating errors
Shorter start-up time
Lower maintenance costs because operators are well trained
Upgrade packages for
Product quality
Safety and reliability
Increased throughput
Control system
Feed system
Discharge and cleaning
Wear protection
Filtration elements
Our separation experts offer various seminars focusing on peeler and pusher centrifuges
Content
Design and operation of peeler and pusher centrifuges
Best practice for centrifuge operation
Maintenance and inspection of centrifuges
Safety aspects of centrifuges and guidelines for maintenance work on centrifuges
Process automation in areas with potentially explosive atmospheres