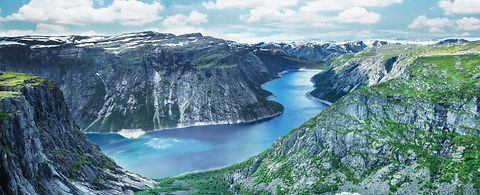 ANDRITZ Hydro in Canada
ANDRITZ Hydro is one of the leading global suppliers of electromechanical equipment and services for hydropower plants.
ANDRITZ Hydro has been operating in the hydraulic power generation sector for more than 180 years. Special application pumps and turbo generators are further fields of activity.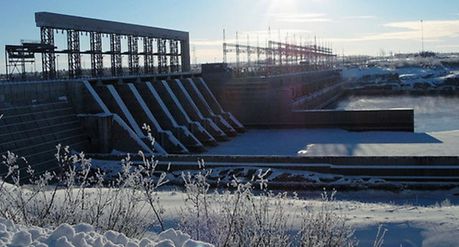 News April 2023
Churchill Falls, Canada
Unit 5 completed in Mexico
Additional activities of ANDRITZ Hydro in Canada comprise sales, project management, procurement, installation and commissioning of electro-mechanical equipment of hydropower plants. ANDRITZ Hydro can supply all types of turbines up to 800 MW and more, generators up to 950 MVA and more, butterfly valves, spherical valves, gates, auxiliary equipment (automation, protection, excitation, governor, SCADA). ANDRITZ Hydro is also a leading company in maintenance (Service & Rehab) and small hydro water-to-wire products (Compact Hydro).
ANDRITZ Hydro employs approximately 500 highly qualified and experienced persons in Canada.

ANDRITZ Hydro is located in six Canadian facilities: 

Pointe-Claire (QC) - Canadian Hydro Head Office
Operating in the hydraulic power generation sector for more than 170 years
Employs 200 highly qualified and experienced persons in Compact Hydro (CH), Large Hydro (LH), Service & Rehab (SR)
Worldwide hydraulic center of competence for Francis and diagonal turbine technology
Worldwide excellence center for large Francis turbines

Chambly (QC) - Hydro Automation & Electrical Power Systems
Design Engineering in-house: Automation & SCADA Systems, Protection & Control, Governor & Exciter Systems
Integrates medium voltage switchgear and station services equipment
100% in-house panel manufacturing & testing
10,000 square foot facility
Installation & commissioning
Employs 80 highly qualified and experienced persons

Paris (ON) - Gates Engineering & Manufacturing Plant
Complete engineering for the design of majority of gates types, stop logs, trash racks, embedded components and hoists
Fabrication is performed by certified skilled trades
Complete installation, commissioning and technical advisory services

Boucherville - P&G Service and Rehab Specialists
ANDRITZ Hydro's facility in Boucherville, established as HMI Construction Inc. (HMI), has more than 65 years of experience in the energy sector, especially in the hydropower industry.

Peterborough (ON) - Generator Center
The generator engineering located in Peterborough is the ANDRITZ excellence center for low speed generators greater than 50 MVA.
Generator design (electro-magnetic & mechanical)
Multi-turn stator coil and bars manufacturing facility - press cured  insulation technology
17,000 square foot facility

Lachine (QC) - Hydraulic Laboratory
ANDRITZ Hydro Canada Inc. in Lachine (QC) is a well equipped and world class instrumented hydraulic lab, with:
2 Hydraulic test stands, unique in Canada, including model manufacturing
Integrated into the global R&D program, with mandate for Francis turbines
Develop, manufacture and test models to international standards (IEC)

Richmond (BC) - Regional Office
Regional Sales & Project, Management Office
Engineers for Compact Hydro (CH), Large Hydro (LH), Service & Rehab (SR), Automation (AUT) business units
Focused on serving Western Canada Clients
Project experience
ANDRITZ Hydro in Canada completed recent projects in Canada, such as Wuskwatim (3 x 66 MW propeller units) in Manitoba, Lower Mattagami (approx. 3 x 72 MW diagonal units) in Ontario, Forrest Kerr (9 x 21.5 MW Francis units) in British Columbia, GM Shrum Poles 1-5 refurbishment in British Columbia, Wells stator rewind in Ontario, EB Campbell Units 7 & 8 Turbine, Generator and Gates refurbishment in Saskatchewan, Beechwood Kaplan turbine refurbishment in New Brunswick. In Quebec, recent projects include Bersimis 2 turbine refurbishment, Toulnustouc spherical valve works, Rapides 2 tension converter, Manic 1 static excitation, La Tuque 5 static excitation, Beauharnois static excitation and turbine refurbishment works.
Our worldwide installed-based equipment also recently included Nam Theun 2 in Laos (4 x 247 MW Francis and 2 x 43 MW Pelton units, Balance of Plant), Yixing in China (4 x 250 MW pump units, Balance of Plant), and John H Kerr in USA (6 x 46 MW Francis turbine, rewind and Balance of Plant refurbishment).
ANDRITZ Hydro at a glimpse
ANDRITZ Hydro is one of the world's leading suppliers of electromechanical equipment and services for hydropower stations in the dynamically growing global renewable energy market. Based on 180 years of experience and a global installed capacity of 470 gigawatts, we offer innovative solutions for new and existing hydropower stations, from small hydropower to large-scale plants. State-of-the-art digital solutions, comprehensive services for the operation and maintenance of entire hydropower plants, and turbo generators for the thermal industry complete the portfolio.
More than 180 years of turbine experience 
Over 31,900 turbines (more than 471,000 MW) installed
Complete range up to more than 800 MW
Over 125 years electrical equipment experience 
Leading in service and rehabilitation
More than 100 Compact hydro units per year 
Check out our HYDRO News App