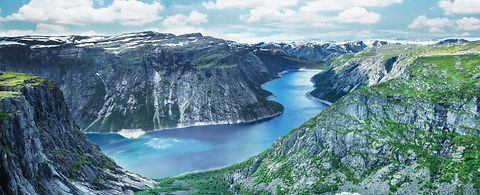 ANDRITZ Hydro in Austria, Linz
ANDRITZ Hydro is one of the leading global suppliers of electromechanical equipment and services for hydropower plants.
ANDRITZ Hydro has been operating in the hydraulic power generation sector for more than 180 years. Special application pumps and turbo generators are further fields of activity.
News January 2023
Sponsoring von Ausrüstung für Skischule in Tadschikistan
ANDRITZ Hydro in Linz, Austria operates mainly in the large hydro, service and rehab, and compact hydro sectors. It is the center of competence (COC) for penstocks and gates as well as for axial turbines within the ANDRITZ GROUP.
Core competencies of ANDRITZ Hydro Linz include the design and construction of bulb, Kaplan, Francis, Pelton, and pump turbines for storage power stations, compact turbines for high and low heads, as well as valves and their auxiliaries.
Furthermore, ANDRITZ Hydro in Linz provides a scope of services ranging from project management and engineering services for the entire plant, to automation, to erection work, including commissioning. There is also a large hydraulic laboratory for research and development of turbines and hydraulics at this location.  
ANDRITZ Hydro Linz has well over 200 dedicated and competent employees.
History
ANDRITZ Hydro in Linz has its roots in the VOEST steelworks, which were founded after the Second World War. The company was supplying major components for many Austrian hydro projects which had to secure Austrian electricity generating.
In 1970, VOEST-ALPINE took over business from the US-based Baldwin-Lima-Hamilton company in Philadelphia. This company had a long-standing tradition in turbine construction, with first plants built in the 19th century. VOEST-ALPINE AG was reorganized in 1985, and the turbine construction sector was integrated into VOEST ALPINE Machinery Construction & Engineering GmbH (VA MCE).
In the year 2000, VA TECH HYDRO was established when VOEST-ALPINE MCE, Sulzer Hydro (previously Sulzer Escher-Wyss) and ELIN were merged. In 2006, VA TECH HYDRO became a member of the ANDRITZ GROUP, changing its name to ANDRITZ HYDRO GmbH.
ANDRITZ Hydro at a glimpse
ANDRITZ Hydro is one of the globally leading suppliers of electromechanical equipment and services for hydropower plants. With over 180 years of experience and an installed fleet of more than 471 GW output, the business area provides complete solutions for hydropower plants of all sizes as well as services for plant diagnosis, refurbishment, modernization and upgrade of existing hydropower assets. Pumps for irrigation, water supply and flood control as well as turbo generators are also part of this business area's portfolio.
More than 180 years of turbine experience 
Over 31,900 turbines (more than 471,000 MW) installed
Complete range up to more than 800 MW
Over 125 years electrical equipment experience 
Leading in service and rehabilitation
More than 100 Compact hydro units per year 
Check out our HYDRO News App
ANDRITZ HYDRO GmbH | Linz