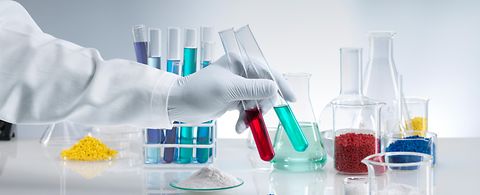 Chemicals
Solutions you can count on in the chemicals industry
Are you looking for innovative separation solutions? New ways to reduce operating costs? Or ensure easy maintenance, full automation, and the highest availability of spare and wear parts?

Proven performance for a range of products
Whatever your end product, we almost certainly have the technology and process knowledge to help you produce it more profitably. Whether it is high-volume potash or bicarbonate, regulatory-approved antibiotics or pharmaceuticals, or the most energy-efficient fertilizer production units. You might simply need the industry's most reliable technology, or complete process optimization including advanced automation systems and full service. From crystals and agrochemicals to pigments and plastics, our expertise is always close at hand.
It all starts with your requirements
We begin with your needs and help you select the optimum solution from the world's broadest range of separation technologies, including a vacuum and pressurized drum filter, filter and belt presses, decanter centrifuges, filtering centrifuges (pusher, peeler), separators, drying/cooling systems, and more. For a tailored approach, our separation specialists can further refine and test your solution on-site or in our own state-of-the-art test centers.
The world's strongest network
Our separation technologies span all aspects of mechanical and thermal separation across a wide range of applications, amounting to more than 2,000 machines installed every year, including solutions for the world's largest producers of potash, soda ash, and fertilizers. Much of this experience is due to the growth of the ANDRITZ GROUP, which now numbers more than 25,000 employees in 40 locations worldwide. This means we have the resources to develop and tailor exactly the right solution from the world's most reliable technology brands and products.